Over the past seven years, Darren Canton has been using the life lessons learned in college to provide guidance to new generations of local athletes through the Future Stars Baseball organization.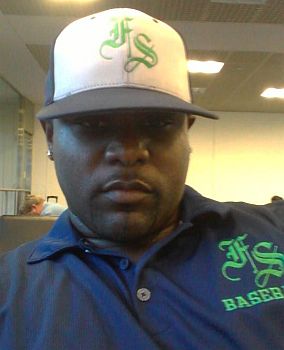 A third generation baseball player, Canton's skills in the field won him offers after high school from several Division I colleges, including the University of Delaware and San Diego State. Poor grades, however, kept him in Florida at Miami Dade, where he tried to improve on the academic side while still playing baseball. A sports injury ultimately ended his career, but it did not stop Canton from returning home and using the lessons he'd learned to "make sure new players coming up avoid the experiences that I had."
The idea for Future Stars hit in 2004, when Canton was watching territory players compete against talent in Florida.
"I always knew we had talent here, and I wanted to do something that could set up an outlet for the kids, at least to achieve their college education through baseball, and maybe get them some professional exposure," Canton said.
Hooking up with some of his old coaches – Dharyl Russell from Brooklyn's Bonnie Youth Club and Darrel Tiebout, whose professional experience includes coaching pros Manny Ramirez, Julio Lugo and Shawn Dunston – Canton worked on setting up Future Stars in the territory with the goal of instilling life skills that work both on the baseball field and in the classroom.
"We usually practice during the summer, three or four times a week, and during that time, we see all different types of players come down," Canton said.
"It has never happened that we have a kid who is a superstar already, and working with that, what we really try to teach the players is that they have to be dedicated, work hard and be consistent, and their talent will grow," he explained. "The biggest thing isn't even baseball, but being dedicated and knowing that if things are not going right, you still have to be reserved and find a way to achieve."
The Future Stars program makes trips to South Florida at least twice a year to give the athletes a chance to play against stateside talent and to visit colleges in hopes of encouraging the athletes to continue with their education.
Freshman scouts are also brought down to work with the V.I. players, and during the Future Stars annual showcase, scouts from the major leagues are also invited in to take a look at local talent.
To pay for the program, Future Stars receives help from sponsors, including Housing, Parks and Recreation, Banco Popular, and the V.I. Lottery. Registration fees collected through the showcases and camps are also put toward the efforts.
"For young males all over the country, and definitely here, things are bleak, and I know that there's a lot of talent that's gone wasted in the past, so my thing is to give them opportunities so they can stay on a straight path," Canton said. "It's a struggle sometimes, but we always find a way to make things happen."
While Canton has helped players in recent years get their turn at the majors, two of the success stories he discussed are students that chose to finish their college education before moving on with their athletic careers.
"Joel Bellot, for example, he's a great story," Canton said. "He left school here a really raw player, average at best, but he's a person that applied himself and worked hard, and was also a good student, so four years later, he's at Barry University with a full scholarship."
A graduate of Charlotte Amalie High School, Bellot's college career started at Southwestern Oklahoma State where he continued to maintain a 3.5 grade point average before moving on to Murray State. Bellot's progress was recently discussed in a c with team coaches Marc Pavao and Alex Gonzalez.
"Our last two transfer signs were Joel Bellot from Murray State College and Andy Ruiz from Florida Memorial. Joel was coming off of an injury and did a great job at Murray State. He hit .333 and was a fixture behind the plate. We didn't have much experience depth-wise behind the plate, so adding Joel was very positive for us," Pavao said.
Canton also spoke about All Saints Cathedral School graduate Kellen St. Luce, who was drafted by the Florida Marlins when he came out of high school in 2008, but opted not to sign.
"He stayed there for a year, but things didn't work out," Canton said, explaining that St. Luce didn't end up getting as much playing time as he thought he would. "But he's now at Nova Southeastern in Fort Lauderdale, getting his sports management degree and playing for the team. So these guys end up playing minor league baseball, but they made it through four years of college and got their degree, and baseball played a part in their success."
Once they get to college, Canton and his team also help the athletes stay eligible to play.
"The reality is that there is a small percentage of players that make it to the major leagues, so if I know I could help a kid learn some skills where he can get money for tuition, and help him make it through college, I think it would make a big impact in the lives of our athletes here," Canton said.