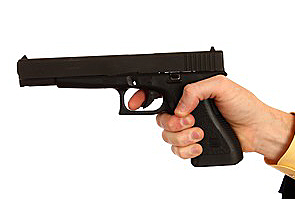 Many on St. Thomas did not mark the New Year with noisemakers, confetti or a kiss. Instead, they listened in horror to the unrelenting sound of rapid gunfire, which started when the Episcopal church bells pealed their welcome to 2012 and continued, for several tense hours, until the rogue shooters had evidently tuckered themselves out.
As a resident of Bunker Hill, I had a front-row seat to this one-of-a-kind New Year's Eve show in "America's Paradise." The first act, when midnight hit, was certainly dramatic: The shots crisscrossed the valley below me, and they did not begin to slow down for a full 30 minutes. Some sounded as close as they were on the November day when a 21-year-old man was gunned down in front my house, while others seemed to emanate from Main Street, Back Street or the water front.
It turns out this theater of violence was also taking place over on St. Croix, where at least one war veteran was jolted awake with unpleasant memories from her deployment which started close to a decade ago.
"There were so many gunshots, I woke in a cold sweat, literally thinking I was back in Afghanistan," the soldier said on Sunday night. "I didn't go back to sleep for two more hours, after convincing myself that I no longer live in a war zone – or do I?"
Later, she wondered if she may have been awakened by fireworks instead of bullets, as she had talked to fellow Crucians who reported hearing or seeing evidence of both.
Nevertheless, her central question about living in a war zone was one that many Virgin Islanders seemed to be wondering – and a pertinent one, given that the territory's murder rate, even in a "down" year, remains about 10 times the U.S. national average, and more than twice as high as our nearest competitor, the District of Columbia, according to the U.S. Census Bureau.
A lot of those worried residents were on Facebook, which I turned to for distraction amid the melee. I was surprised to see that it wasn't just folks like me, who live in downtown Charlotte Amalie, who were being rattled by a gunfire storm.
"WOW!!!!" typed a young mother who lives on Water Island. "I have never heard so many guns going off, I'm glad we're safe and sound across the water….oh my, there goes another machine gun…….St Thomas friends stay safe!!!!!!!!"
My boyfriend disputes that the sounds we heard came from machine guns; rather, he thinks we were hearing bullets being discharged by handguns equipped with a full clip and rapid-fire capabilities. Whatever they were, the sounds were loud, fast and scary.)
Back to the Facebook conversation, where a resident of St. Thomas' North Side started sharing her story around 12:30 a.m.
"This is insane over here!" she said.
"I don't remember anything like that last year, was i too drunk?" asked another St. Thomian, who also said he'd heard single shots and machine gun fire near his South Side home.
"Our place was surrounded with machine gun fire," the North Side woman continued. "I'm not afraid of guns, but this had me on the effing floor and concerned with protecting my life. They are mostly done now over here, thank goodness. Stay safe!"
Shortly after 1 a.m. in Charlotte Amalie, the shots had turned into intermittent strings of rat-a-tat-tats that broke the silence every 10 minutes or so.
Besides my new Facebook confidants and my boyfriend, the only other person I communicated with about the gunfire was the dispassionate 911 dispatcher I called shortly after midnight.
"Nine-one-one," she deadpanned. "What is your emergency?"
I told her my neighborhood was swirling with gunfire. I held the phone up to the bars on our window that faces Main Street.
"Oh," she said. "Yes. I hear it now."
In the ensuing hours, I saw no signs of a police response in my neighborhood – dear readers, did any of you in yours?
Back to Facebook, where the conversation had turned to whether the celebratory gunfire posed a legitimate safety risk. The South Side man said he wasn't too worried about the danger posed by "idiots" shooting up into the air, but I was a bit more skeptical.
"I'm probably paranoid, but I worry that shots in the air will somehow strike some stray passerby, or me or my pets if we're out in the yard…" I said.
"What goes up, does come down," the North Side woman retorted, adding that plenty of people have been killed by stray bullets.
"The firepower I heard tonight could do the job," she said.
We signed off to calm our frayed nerves with sleep and spirits, but I stayed up writing and working late into the night. The strings of gunshots grew less and less frequent until, around 3 a.m., it was almost silent on Bunker Hill.
Today, my family and I watched the sunset from Drake's Seat, where we met a mom, dad and four children who were vacationing here from Indianapolis. They said they'd been a bit frightened last evening when they heard gunfire from their room in Frenchman's Cove.
"I figured it was pretty far from us, but still," the patriarch said with a grimace.
I got back onto Facebook, where a few more Virgin Island residents had piped in to share their New Year's Eve accounts.
"I had 2 bullets land in my yard last night," a man named Patrick said. "The craziest sound ever. Went indoors from that point on. Welcome to the Virgin Islands."
"Mental note," he added, "New Years is a stay at home night here in the VI."
Like Patrick, I'm also pretty new to the territory. And I can only imagine the stories tourists are telling their friends back on the mainland about their V.I. vacation and our festive, and potentially lethal, way of blasting in the New Year.
After last night's explosive holiday festivities – and the local authorities' alarmingly passive non-response – I don't plan to stick around for next year's reprise.