Idle the Iguana, mascot of the Source, seemed down when we happened on him recently lolling in the sea grape. Sighing, rolling his eyes, and occasionally even moaning, the usually irrepressible iguana seemed so low that we were concerned, and stopped to see if we could buck up his spirits.
"What's the matter?" we asked. He looked at us and rolled his eyes again.
"It's this job," he said.
"What could possibly be wrong with the job? We call on you once a year to offer some wishes for the New Year, and to keep it light. A little good-natured ribbing about foibles and follies of the territory and its newsmakers – "
"Keep it light?" he interrupted. "Have you read the news?"
"Well, yeah," we said. "That's kind of our job. That, and writing it."
"You sound like a politician," he said. "Kind of…"
We paused for Idle to continue.
"Well, after the year we've had, how am I supposed to keep it light? Sure, the homicide rate is down, but that's hardly a topic for humor. The economy is still stagnant, WAPA bills are still sky high, and now the government is starting to lay people off. You try being funny with the year we've had."
"Hmmm, you might have a point," we conceded. "The glass is half full. I mean, the water should be back on soon on St. Thomas."
Idle almost imperceptibly sighed, and remained silent.
"That's why we need you more than ever," we said. "Laughter in the face of adversity is one of the most ennobling of human traits."
"I'm a reptile, in case you hadn't noticed," he said, waving his scaly tail in our general direction.
"Right, right, that's what we meant. Laughter in the face of adversity is one of the most ennobling of reptilian traits."
He gave us that look, the one that teenagers sometimes give their parents, the one that says, I hear you and I can't believe we're related.
"Look," we said. "We need to hear from you, we count on your perspective. As long as you've been on the island (Idle is a very long-lived lizard) your ability to take the long view helps us all – Thomians, Crucians and Johnians – get through the year. We're counting on you. Don't let us down! Besides, it's in your contract."
"Really? I have a contract?"
"Sure. But that's just a formality. We know you can do it!"
A glint lit up his slit eyes and he squared his shoulders – or whatever lizards have where humans have shoulders.
"Alright, you're on," he said with determination. "Here we go!"
Idle the Iguana's Wishes for 2012
First, to all Virgin Islanders, just a little sense of trust. Just because you disagree with a public official or caller on a talk show doesn't automatically mean that person is a thief, a liar, or worse. Maybe this year we could try a little trust: We all want what's best for the territory and sometimes we simply need to agree to disagree, even if it is on what is best.
I was going to wish for the Senate to put teeth in the Animal Cruelty Act, or the Department of Ag to actually hire animal cruelty officers and enforce the existing law, but I've frankly lost the patience for that. As an animal myself, my wish is for all the dogs trained for the barbaric "sport" of dog fighting to be armed with automatic weapons, so they get a fair shot at the trainers before the trainers get a shot at them.
And since 2012 is an election year, there doesn't seem much point in casting aspersion on the current Legislature. Instead, let me offer a wish for the next one. It's my wish that our 2012 candidates campaign by giving voters positive reasons for voting for them and clear statements about what they'd like to achieve if elected. By the same token, here's a wish that the voters of this territory hold the candidates to those standards, and not reward candidates who fall back on the same old finger-pointing, blaming, and unsubstantiated charges that too often make up politics and running for office.
Other Idle Wishes
That Mercedes Dullum and Henry White Jr., the choices to head the Department of Health and the V.I. Police Department, have thick skins as they go through the nomination process, and that the senators vetting them stick to the issues and the qualifications, and remember that it's not a sin to have new ideas.
That the St. Croix Bypass actually opens on schedule this summer! That would be a great step in the right direction, both for traffic and as an example of what government can do.
Can the renovation of Fort Christian be finished, please? Its condition is a disgrace for the whole Virgin Islands, especially us reptiles. Oh, wait. I wished for that last year. Alas.
A grand opening for the new library in Tutu… Wait! That's from last year too. Well, here's wishing it again and alas again.
Speaking of last year, I also wished for the renovation of the St. Thomas waterfront apron, and lo and behold! Potted palms now dot the waterfront and grace Long Bay Road. I can even slither carefully in slow traffic to take a midday sun. So that's a start! Here's wishing a very happy New Year to whichever officials pushed that through!
While we're on the subject of long-term projects, how about a wish that St. John finally sees progress on a new combined elementary and high school.
Let's all wish hard that St. Croix youth get to enjoy Crucian Christmas Festival, and the good times are not marred by bad behavior at the festival village, J'Ouvert, or anywhere else.
I hope that somehow, despite pay cuts and layoffs on top of the usual stresses of their jobs, public school teachers are able to muster real smiles and genuine enthusiasm to help inspire their young charges, who have only one chance to get a proper education.
Here's hoping some of our various agencies that protect us – VIPD, Coast Guard, DEA, etc. – keep up the good work and have even more luck rounding up drug smugglers and gun runners. In 2012, let the only pirates in the Caribbean be on the movie screen!
I really wish that young men thinking of giving up on school, dropping out, and looking for quick cash in some ill-advised or illegal plan get engaged by a book they really enjoy and go on to finish school and continue on to college. I'm sure I could recommend a book or two…
Speaking of college, let's hope that in 2012, more youth invest in themselves, even if it means taking out student loans, to go to UVI or a stateside college and see how far they can go in life!
I hope this is the year everyone suddenly stops dumping their tires by the side of the road and their trash out their car windows. I have to live in this stuff, you know.
I don't want to choose between ridiculously high power rates on the one hand and pollution on the other. Alternative energy sources could help both!
I'm sure that in 2012, our islands' culture bearers, who outnumber those who insult our traditions by breaking laws, will step up and take an active role in communities across the territory.
I would really like to find Seara Samantha James. She's been missing since Oct. 11, last seen on St. John, and would it be asking too much for good news?
I hope the bar owners finally catch on that the days of blasting residential neighborhoods with loud music are over. Residents don't like to continually call the police, and the police have more important things to do than enforce civility. And that goes double for people playing loud music at all hours of the day and night from their open cars. Put a lid on it. Can you imagine anything more ridiculous than an iguana with hearing aids, much less a person under 30?
Idle Reflects
I remember when I first moved here from far, far away. It was back in 1967. I somehow found a place in Frenchtown, and within weeks, I was made to feel a part of the community, even accepted, a true continental iguana.
Back then, I could swing into Katie's bar on Back Street, any hour of the night, and in peace. Town was safe in those days with almost no crime.
I had little interest in politics then – only in the past few years has it been thrust upon me – and I have stayed on St. Thomas because I know, at heart, what a loving community it can be, especially if everyone contributes a little – picking up trash on the road side or helping someone in need really makes a difference.
It's not "always howdy, howdy, never good bye." No place really is, but, it's always Good Mornin' – You never just pass somebody without acknowledging the day.
I believe in the good people who live here, who are kind to me, especially those who stop in the road to let me pass. People like those who come to Emancipation Garden on Christmas morning to listen to the lovely voices of all sorts of choirs ringing out, and to greet an old friend over a slice of dumb bread and cheese, or sweetbread and ham along with steaming hot bush tea offered by the Petersen family.
People like the statesider who launched "My Brothers' Workshop," where community members have really gotten behind him volunteering time and expertise to help others who haven't had it as easy.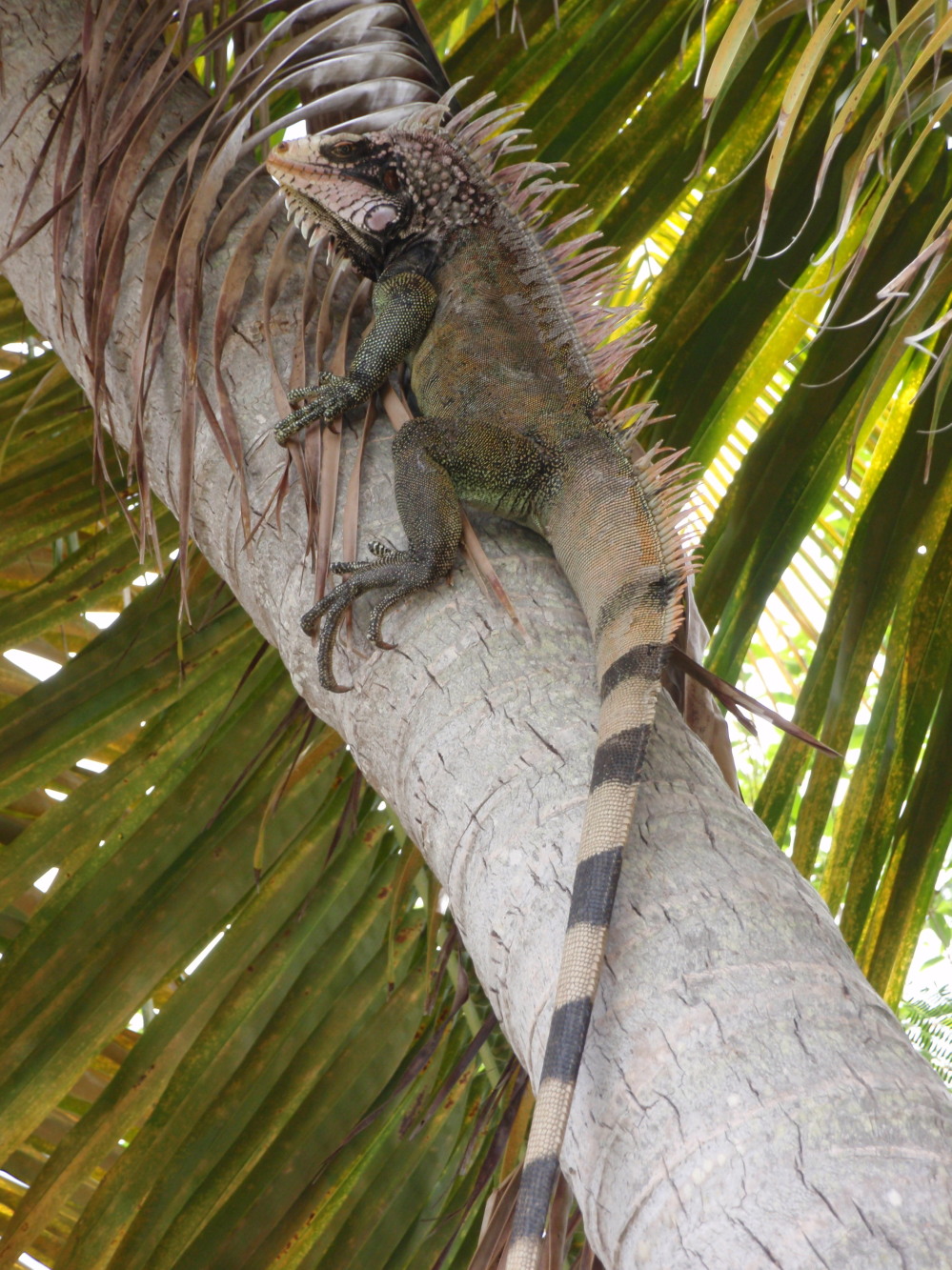 I love people who love animals, adopting animals, seeing they are spayed or neutered, or who volunteer at the Humane Society year after year, or who donate to the fundraisers for community organizations like Clear Blue Sky, or Nana's Baby Home.
I often think of people who come to Homeless Connect each year, offering free clothing, meals, massages, haircuts, helping people get identification, a small step on the way to real self-esteem. We all need to feel good about ourselves.
This is what I love, and why I stay. We all have our frailties, and frequently we take these failings out on each other, and that's sad. Choosing to live on this tiny dot in a very big ocean is reason enough to care for each other and our environment. We are all our brothers' keeper. It's that or sink.
I think of a line from my favorite movie. "Nobody's perfect."*
* last line of "Some Like it Hot."