In an emergency meeting Thursday, the V.I. Water and Power Authority board approved the temporary installation of two additional reverse osmosis seawater desalination units by Seven Seas Corporation. This will bring the total number of units to eight, and enough to meet St. Thomas's entire water demand.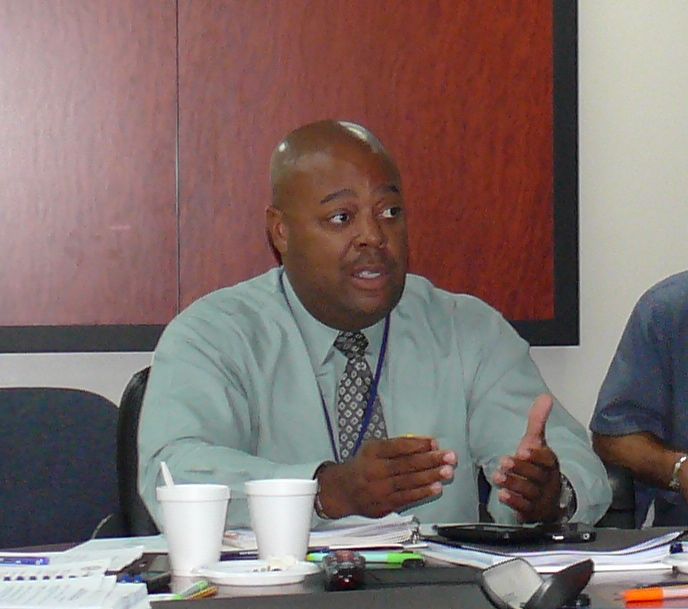 Three temporary units are online now, six should be online within a week, and all eight in a week to ten days, WAPA Executive Director Hugo Hodge Jr. told the board. At that point, severe water shortages on St. Thomas should be permanently fixed, and if repairs on the plant's '60s vintage desalination systems are finished in the next day or so, as expected, the water shortage will end over the weekend, he said.
WAPA had been planning for more than two years to move toward reverse osmosis, and had already gone through the bidding process and entered into a contract with Seven Seas to build permanent reverse osmosis facilities over the course of 2012, Executive Director Hugo Hodge told the board Thursday morning.
"We already had CZM (Coastal Zone Management) permits, and had already started clearing land and hoped the existing system would last until they were online, but, as it turns out they, did not last," Hodge said.
When St. Thomas's no. 11 boiler failed in November, WAPA arranged with South Seas for temporary reverse osmosis units. Three went online last Friday, producing 750,000 gallons per day– not enough to meet demand after the secondary failure of a pump on the plant's waste heat boiler, forcing continued outages and rotating service.
As of Thursday morning, two more units were on the ground and ready to be set up, and by Friday, all eight will be on the ground; crews will work around the clock to hook them up to the water system, he said.
The boiler that failed in November is "past its time and done," and WAPA is not working on repairing it, Hodge said. The utility is working feverishly on the second problem – the broken pump on its waste heat recovery generator – he said. After unsuccessfully seeking parts on the market, WAPA ordered and received two specialty composite steel rods that it is now machining in-house, to fabricate a new shaft within the pump, he said.
"We hope to get the waste heat boiler back online today, and if so, we will get through this much faster, as a matter of fact, it could end tomorrow," Hodge said. If not, then it could be up to a week before the crisis is fully over, he added.
Because Seven Seas was already building permanent systems and entering into a long-term contract with WAPA, it agreed to provide the temporary units at no additional charge, as well as sell the water to WAPA at the same low rate of $4.77 per thousand gallons, as it agreed to provide water from the permanent systems when they come online, according to Hodge. That is less than a third the utility's current cost for water production, he said.
Asked why WAPA did not switch over to reverse osmosis much sooner, especially when it is so much less expensive, Hodge said the comparatively low cost is a new phenomenon due to technological advances. Additionally, temporary units would not usually be on the menu while awaiting construction of permanent units, as they are expensive and will lose a lot of their value while being used. South Seas was willing to step in because of the emergency situation, he continued.
St. Thomas has been suffering with serious water shortages since Nov. 15 – boiler 11 failed, a pump feeding the waste heat recovery generator malfunctioned, and a gravity-fed line burst – WAPA officials blamed the line failure on age and sudden extreme changes in pressure when the line was empty and then re-filled. Schools, businesses, and government agencies have closed early on several recent occasions due to a lack of water for drinking and washing.
One small consolation for St. Thomas residents who have been suffering without running water for days on end: water rates will go down many months sooner than they would have had there been no water crisis.
Voting to approve the extra two reverse osmosis units were board members: Juanita Young, Cheryl Boynes-Jackson, Noel Loftus, Gerald Groner, Brenda Benjamin, Planning and Natural Resources Commissioner Alicia Barnes, Energy Office Director Karl Knight, and Licensing and Consumer Affairs Commissioner Wayne Biggs. Donald Francois was absent.