While dignitaries on the main stage opened the 2011 Crucian Christmas Festival with dire comments about hard times and having a fun festival despite gloomy economic news, the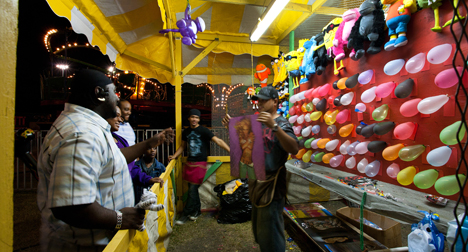 people who came out for Thursday night's festivities were too busy having a great time to notice.
Throughout the booths and carnival rides the crowd was busy having a good time. While the numbers might have been a little light for the opening night, most merchants blamed it on being mid-week, and said they expected the place to be packed for the weekend.
One person who wasn't going to wait for the weekend was Gabriella Spano, 4, whose father, Lou said she had been looking forward to Thursday night since the start of the holidays.
"She's been bugging me about it for a couple of days, ever since she saw them start testing the rides," he said, while Gabriella went round and round at the wheel of a car ride.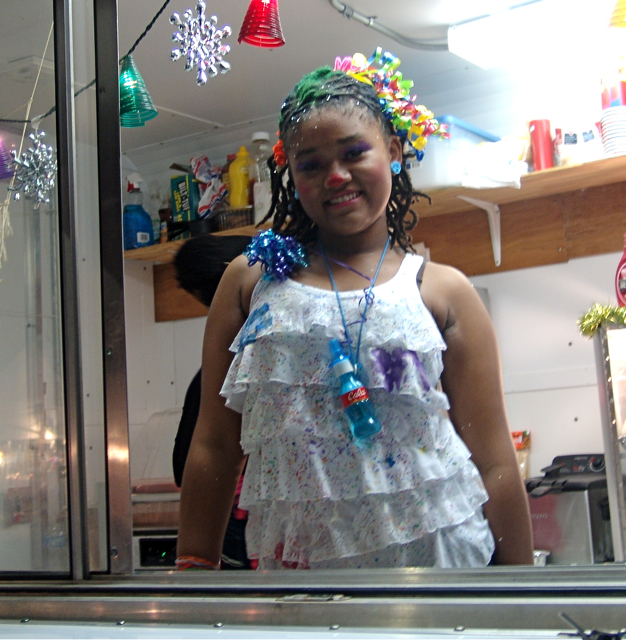 Two friends from Arthur A. Richards Junior High School had a split opinion as they stepped off the Paratrooper ride. Both girls – Julia, 13, and Takema, 15 – had been alternately laughing and screaming as the bucket seat they sat in whipped them into the sky then plummeted them back to Earth.
"It was scary, but fun," Julia said. "Scary fun."
They're reaction was typical, said the two young men running the ride.
"Almost every person screams," said the pony-tailed ride operator, who declined to give his name. "When it comes down you think you're going to hit the wall, but it's safe."
Kameron Joseph, 5, and his brother Jadon, 4, were almost beside themselves with delight after dad's prowess with darts won them both plastic swords, not to mention a giant inflatable hammer for the whole family. Meanwhile, Dana Callwood, 2, with her big eyes staring sleepily from a booth, helped her mother Kay dish up treats for the village crowd.
The police were out in force, keeping an eye on things and ready to react if there was any trouble, but Thursday, at least early in the evening, was trouble free and the last thing on anyone's mind.
The entertainment schedule on stage for the rest of the week in the Festival Village:
Friday, Dec. 30
9 – 11 p.m. Fusion Band
Midnight – 2 a.m. UMB Soldiers


Saturday, Dec. 31

9 – 11 p.m. Chugga and Band
Midnight – 2 a.m. TBA

Sunday, Jan. 1

8 to 11 p.m. Hartatak Band

12:45 – 3 a.m.Denis de Mennis n de Squad 


Monday, Jan. 2

Cultural Night in the Village

7 – 8 p.m. The Complex Band and Complex Quadrille Dancers

8:30 – 9:30 Bradley Christian and The St. Croix Heritage Quadrille Dancers

10 – 11 p.m. The Crucian Rhythm Band

11 – 1 a.m. The Image Band
1 – 3 a.m. EXPress Band


Tuesday, Jan. 3

9 – 11 Digital Band

Midnight – 2 a.m. Denise Belfon featuring Blaxx

Wednesday, Jan. 4

Reggae Night in the Village

8:30 – 9:30 Up-A-Level Reggae Band
10-30 – 11:30 p.m. The General

12:30 – 2 a.m. Tayna Stevens


Thursday, Jan. 5

Latin Night in the Village

8 – 10 p.m. Joseph Fonseca

10:30 – 12:30 Sabor Latino

1 – 2:30 a.m. Liquid Sounds
Friday, Jan. 6

8:30 – 10 p.m. Exclusive Band

10 – Midnight Stylee Band

12:30 – 2:30 a.m. JDPP Jammerz HP
Saturday, Jan. 7

8:30 to 9:30 Outta Limits Band featuring Elizabeth Wattley

10 p.m. to 11 p.m. Spectrum Band
Midnight to 3 a.m. T-Vice 


Sunday, Jan. 8

Calypso Show in the Village

8 – 8:30 p.m. Calypso Monarch Winner

8:30 – 10:30 p.m. Prince Gallaway
King Derby and Others

11 – Midnight The Mighty Shadow

12 – 1 a.m. Calypso Rose