Wednesday morning, a group of young children stood behind a table bearing two large cakes at Fort Christiansvaern to wish Buck Island a happy 50th birthday. The event commemorated Dec. 28, 1961, the day Buck Island became a National Monument signed into law by President John F. Kennedy.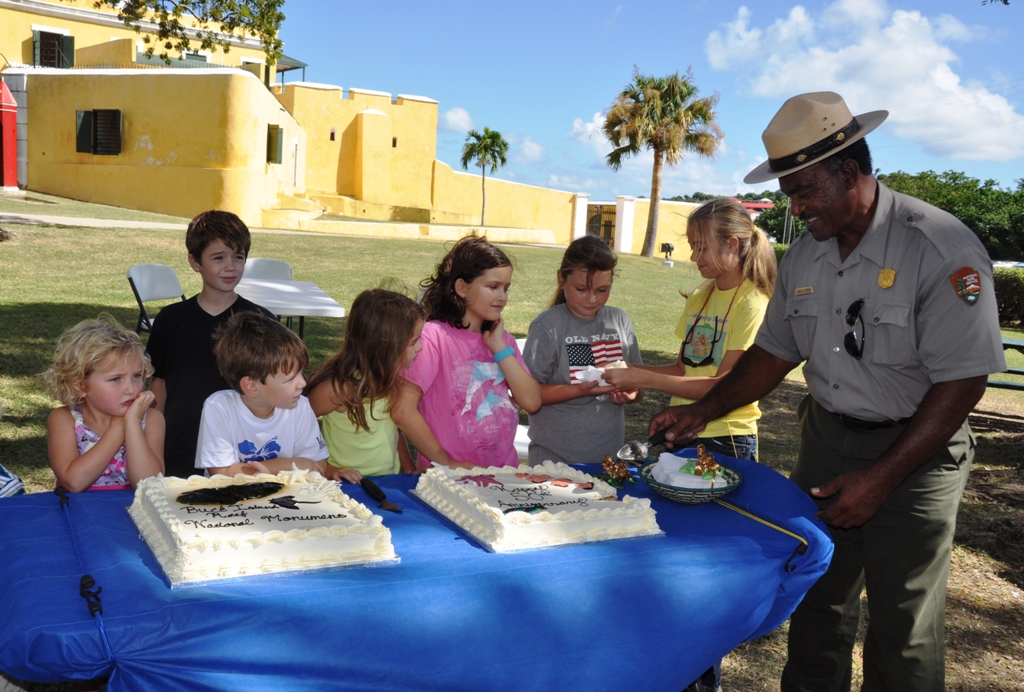 "We read last week that the north swells were supposed to be heavy, so we switched it to have the ceremony here," Susan Duke, commercial services specialist of the Park Service said.
It's a good thing too, because as soon as the cakes from Starfish Patisserie hit the warmth of the sun, they began to melt; the children lined up, shouting "Happy Birthday Buck Island" as they waited for a slice.
Enrika Hunt, who has been to Buck Island many times, brought her two children to celebrate, ages 5 and 9, because she felt that it was important to support the milestone.
"We just wanted to celebrate and thought it was important that we come to support this great event," Hunt said.
In the past 50 years, Buck Island Reef National Monument has become the number one tourist destination on St. Croix, averaging 50,000 visitors a year, according to Zandy Hillis-Star, chief of resource management for the Park Service.
Hillis-Star has been caring for Buck Island professionally for 24 years, but since 1961, she has had its interests in mind. For her, the island is a female entity that has become a lifelong passion and friend.
"She has two faces," Hillis-Star said. "Her public face is the recreational side that brings the tourists, but her private face is the scientific side, and is focused on her ecosystem and restoration work over the last 40 years."
The passion with which she spoke was evident, and Hillis-Star's eyes brightened as she began to relay the historical meaning of reaching the milestone of turning 50.
"She's been through a lot; there've been human induced changes from logging, to a place where goats grazed, and the island was even used at a point for subsistence farming," Hillis-Star said. "We've come far together and will probably continue to go farther," she added, smiling.
Buck Island has been expanded twice since 1961, to include a 176-acre dry forest island and 18,839 acres of submerged land and a coral reef system. It's one of only a few fully marine protected areas in the Park System, and supports an ecosystem of endangered species, including the St. Croix ground lizard and the hawksbill leatherback, according to the new 50th Anniversary flyer.
"There have been a lot of success stories that Buck Island has been a part of," Chief of Interpretation and Education, David Goldstein, said. "It has become a very well-preserved natural landscape."
Goldstein said the island has made a comeback since much of its coral population was removed when Hurricane Hugo hit in 1989. Additionally, the Park Service has had many successes on the island. Over the last few years, an abundance of roof rats were successfully removed; in 2008 the endangered St. Croix ground lizard was reintroduced; and invasive and non-native plants were eradicated.
"We've also seen an increase in turtle nesting over the last few years," Goldstein said. "We've really learned a lot about turtles in the last 40 years because of the ongoing research we conduct," Goldstein said, referring to the Buck Island Sea Turtle Research Program.
Park Service superintendent Joel Tutein grew up in Gallows Bay and said he has been around Buck Island his entire life. He started working as a Park Ranger on the island in 1975, and said he has seen many positive changes over the years.
"In the 70s, we would just throw anchors down, now we have 11 permanent moorings in place," Tutein said. "Also we used to have 25 approved concessioners with 57 boats, but over the years, that has been reduced to only six concessioners with only a dozen boats."
Tutein said less boats and concessioners are not only more manageable, but the quality of their services is higher, and they are all conscientious about the preservation of the park.
"They all know that it's important to maintain the eco-system of Buck Island, because it's essentially their livelihood," Tutein said.
Captain John Macy, a.k.a. "Capt. Big Beard," is one of the six concessioners that has been going to Buck Island for years.
Macy has several boats that conduct half-day and full-day tours throughout the week. Over the years, he has also become more concerned about the eco-system of the island. So concerned, in fact, he built his most recent boat, the Adventure, to meet Park Service standards.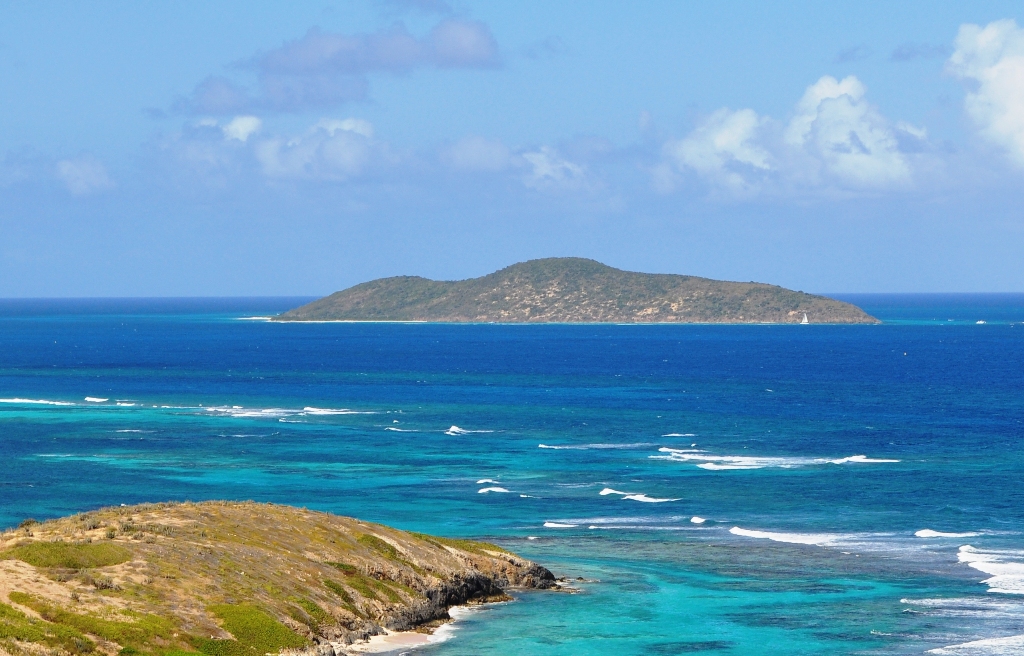 "Our newest catamaran has two diesel engines and two electric motors," Macy said. "So, we can shut off the diesel and use the nice, slow, quiet and pollution-free electric motors."
To commemorate the 50th anniversary, the public was also allowed free entrance into Fort Christiansvaern, which is typically $3.00.
In January, the Park Service plans to hold an exhibit describing the history of Buck Island, and the important natural and cultural resources that are contained within the protected areas.
For further information about Buck Island Reef National Monument, visit http://www.nps.gov/buis/index.htm.