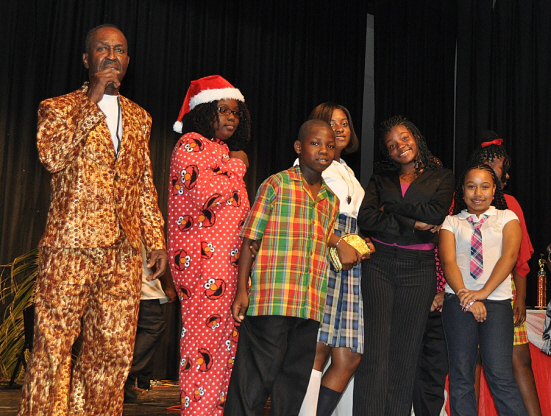 Junior Calypsonians, ranging from kindergarten through high school, spent the afternoon on Christmas Day singing and dancing to the beats of calypso music at the St. Croix Educational Complex, while occasionally sending out messages of economic woes that seemed to starkly contrast with holiday cheer.
The iconic father of Calypso, Inc., Camille "King Derby" Macedon, headed up the 29th consecutive year for the show, which began at 5 p.m. with introductory jokes and an explanation for why the competition was moved from its traditional place at Island Center.
"New management didn't like me, so they took me off the calendar," Macedon said, smiling. "Thank you all for supporting us and coming out on Christmas Day!"
While many of the songs revolved around the seriousness of the troubled economy and violence in the Virgin Islands, most of the winners still seemed to maintain the innocence of their youth with positive lyrics about music, dancing, and the joys of Christmas festival. Navaeh Crump, who attends Pearl B. Larsen Elementary School, won the Pee Wee division with "J'ouvert Morning," a song about the joys of jumping and dancing during festival.
Another Pearl B. Larsen attendee, Noel "Junito" Tirado, won the Pee Wee I division with "Garbage Man," a ditty about the responsibilities of cleaning up trash and what it means to grow up.
The crowd got excited when Aliyah "Queen Lisa" Hutchinson from Eulalie R. Rivera Elementary School, came out to prance along the stage in a school uniform to sing about the joys of eating traditional Crucian meals at school, like stew meat and rice, or corn beef and fungi, with her song "Lunchroom Food."
But it was Deondre "Young Scabbie" Cascen, also of Rivera school, who won the Pee Wee II Division with his song "Police," about his desire to fight crime and arrest criminals.
Dequisha Maraj, another Rivera student, came bouncing out in full regalia, wearing a pink plaid tie to go with her white shirt, to win the Intermediate Division with her song "Dancing Fever," where she sang and showed off fancy footwork about her passionate gift of dancing.
One girl who performed for the Intermediate I Division, Ashera "Shera J" Joseph, quieted the audience with a darker song called "Lucy Smoking" about a woman suffering because of a relationship with a "crackhead." However, Jahnaya "Lil Moyo" Christopher, changed the tone, when she came onstage to perform CPR on a prop-doll, before singing her winning debut of "It's All Up to You" about the importance of learning the life-saving CPR methods.
Christopher, also from Rivera, won her the Intermediate I Division title.
Keshaundia "Princess K" Quinn, from Rivera, came out in an elegant black outfit to win the Junior Division with her song "How Can I," in which she belted out some political lyrics about her view of the current situation in the Virgin Islands.
"When the leaders stop leading, teachers stop teaching and preachers stop preaching, how can I help, how can I?" she asked.
The lyrics that seemed to quiet the audience the most however, were sung by John H. Woodsen Jr. High student, Lamalia "Lady Mya" Milligan, who won the Junior I Division with her song "Unemployment Woes," a ditty about how unemployment affects youth.
"What wrong with me mother? I'd like to know, why she treatin' me so, I tell she I need new shoes and clothes, she push her mouth like she want to give me blows," Milligan sang wearing Elmo pajamas and a Santa's hat.
After thanking the Xpress Band in a calypso rhyme, Derby came out to explain the importance of continuing the tradition of teaching calypso to youth.
"We need to carry on the culture in the way we speak, sing and cook," Derby said.
Here is a complete list of the 2011 Junior Calypso Show winners:
Pee Wee division
Winner: Nevaeh "Heaven Sent" Crump
First runner-up: Lamani "Lil' Big Man" Isle
Pee Wee I
Winner: Noel "Junito" Tirado
First runner-up: D'Kyrah "Lady D" Hendrickson
Second runner-up: Jahdeja "Déjà vu" Samuel
Pee Wee II
Winner: Deondre "Young Scabbie" Cascen
First runner-up: Aliyah "Queen Lisa" Hutchinson
Intermediate

Winner: Dequisha "Diva Q" Maraj
First runner-up: Christina "Crucian-Puerto Rican Princess" Nieves
First runner-up: Caliyah "Lil Diva" Heyliger
Second runner-up: Deshia "Princess Meek" Perinon
Intermediate I
Winner: Jahnaya "Lil Moyo" Christopher
First runner-up: Ashera "Shera J" Joseph
Junior
Winner: Keshaundia "Princess K" Quinn
First runner-up: Laquisha "Queen Quisha" Hillaire
Junior I
Winner: Lamalia "Lady Mya" Milligan
First runner-up: Keosha "Crucian Empress" Quinn