While utility bills in the territory are crushing, companies and institutions can save millions while helping the environment, not only by systematically conserving and being efficient, but by generating power locally, energy consultant Larry Eighmy told Rotarians at a breakfast meeting at Gertrude's last week.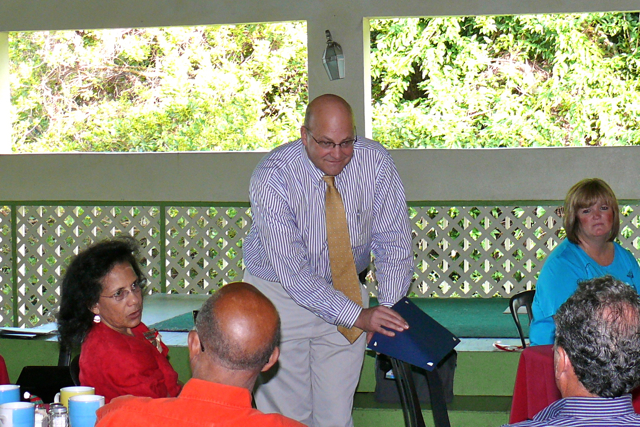 Eighmy is a founder, part owner and manager of The Stone House Group, a firm that provides technical, facilities and sustainability consulting to not-for profit and business clients. Typical services include owner's representation for capital projects and operations, commissioning, utility master planning, and Leadership in Energy and Environmental Design (LEED) sustainable building standards support and administration. While working primarily in Pennsylvania, in the last few years, Eighmy has compiled a growing list of V.I. clients, including the Antilles School on St. Thomas and Gov. Juan F. Luis Hospital on St. Croix.
While high utility costs are a huge burden locally, they also, in a backhanded way, make it easier to invest in alternatives like solar, because the high utility rates mean expensive investments into solar panels and solar hot water heaters will pay for themselves more quickly, he said. Also, in a high-cost environment, such as in the Virgin Islands, larger institutions can potentially save big money by generating power locally, whether by wind, solar, or high-quality diesel generators.
"With a shorter distribution loop, there is less line loss," and you are not paying to maintain long stretches of network between the power plant and the end user, he said.
And because of the gentle weather here, conservation can be especially effective, he said.
"This is a zero energy type of day," he said to the group of Rotarians gathered in Gertrude's enclosed patio. "We are outside, we have no lights on, we are using no electricity at all. This is my type of environment." With the weather here, that sort of low-energy consumption can be a typical day at work, cutting down usage without any impact on comfort or productivity, he said.
"Conservation sometimes gets a bad rap, where people think it means suffering with no air conditioning," Eighmy said. "And conservation is important. For every one degree you turn down your air conditioning, we believe you save about one percent." Efficiency is the real goal, he said. Conservation is using less energy, but "efficiency is doing the same thing for less energy."
Eighmy is so certain there is big money to be made through increasing efficiency, he has made it his business model – his company gets paid solely out of energy savings to his clients – including a five-year contract with the JFL. In the case of the hospital, this meant "there is no cost to the hospital and the risk is on us," he said.
So far, by establishing new routines and protocols, "by changing schedules, turning things off that shouldn't be on, and ultimately by generating power on site, those combinations have allowed us to save about a million dollars a year at the hospital," he said.
Hospital officials have praised the performance of Eighmy's company in the past. In February of 2010, shortly after the generators went in, JFL Hospital Director of Facility Operations Peter Abrahams said two large generators put in place by the Stonehouse Group generate power for the hospital at 23.5 cents a kWh – 7.5 cents less than the 31 cents charged at that time by the V.I. Water and Power Authority. That price includes maintenance, operating the generators, fuel – and the generators themselves, which will become property of the hospital after five years. The contract with Stonehouse Group is revenue neutral up until savings pass set benchmarks. That means the hospital does not pay a dime out of pocket for any of the new measures: Stonehouse is paid out of the savings and, until they rise to a certain level, the hospital pays exactly what they would have paid otherwise.
Along with his company's work on St. Croix and St. Thomas, the Stone House Group has worked with a slew of schools, hospitals, health networks, and colleges in Pennsylvania, and in fact, the company name comes from a stone house in Pennsylvania that was the company's first office. According to company literature, it has served over 145 clients and has grown to 20 employees over the past dozen years of its existence.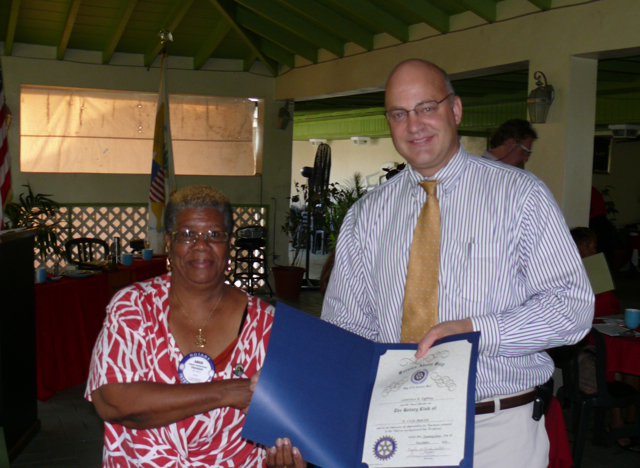 Eighmy is currently working on a project for the Philadelphia Area Independent School Business Officers' Association to develop a broad based energy management program, which began with benchmarking the energy cost and consumption and carbon footprint of 70 institutions. Plans include group purchasing of electricity and gas, energy audits, $3 million in grants for solar photovoltaic projects, and the creation of a "zero carbon" neighborhood with no net carbon dioxide emissions, around its company headquarters.