National Youth Build experts said that the territory may be at the tipping point when it comes to youth violence and gang related crimes, but shared some strategies at a conference Thursday that they believe could help .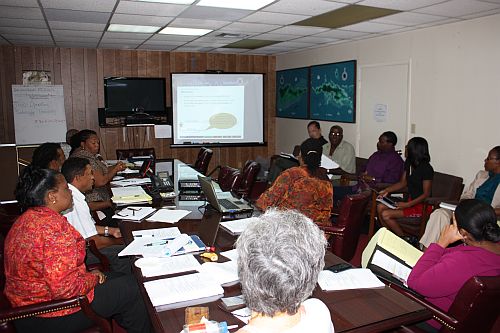 Youth Build, a national program that targets and trains at-risk youth, is currently administered in the territory through the V.I. Housing Authority, and works within the Oswald Harris Court Housing Community on St. Thomas and the Marley Housing Community on St. Croix. Local officials said that they organized this week's conference on St. Thomas to get more community support for the program and its participants, and to brainstorm with staff and stakeholders about how to address the crime problems.
"In the last five years or so, we've seen an increase in the amount of violent criminal activities in our communities, and we don't see a large response coming from the public on the outside," said Carla Joseph, Youth Build's director on St. Thomas. "So, the Housing Authority is taking the bull by the horns, and trying to address some of these issues in the territory."
The two day conference featured presentations from gang experts and Youth Build consultants, Oscar Grant and Kevin Henderson, who warned Thursday, that while the gang problem is just building in the territory, it can spiral out of control in the next five years.
"There's not a lot for the young people to do here, so they're mimicking a lot of the gangs from Los Angeles and Chicago," Grant said. "They haven't started to do the high level of crimes, but they are starting to imitate some of the behavior. There's not a lot of jobs here, there's not a lot of opportunities for young people to get formal education; the need for them to achieve is not there, and when that happens, you find a lot of young people turn to gangs."
Henderson, who toured the island's crime hot spots with local gang expert LaVelle Campbell, also said the territory is in danger of facing a major gang problem if the community does not start getting more involved.
"I think a lot needs to be done," he said. "The community needs to be out here, the police need to be more involved, there needs to be a pooling of resources for these youth. From my experience, and I'm from California, if this issue doesn't get addressed soon in the Virgin Islands, you will have what we had in Los Angeles in 1989, with all the violence with the gangs."
Conference participants – including VIHA staff, Youth Build officials, and local stakeholders such as the V.I. Police Department – worked with Grant and Henderson to lay out various strategies, which focused on public policy, education, families, safety and security, and providing more financial assistance to programs like Youth Build, so they can continue their work with local youth.
Grant said Thursday that the local Youth Build contingent had taken the first step by applying for a federal grant that works with the Department of Labor in training and mentoring the program's V.I. participants.
"This is a very competitive grant, and the island won this award, beating out about 100 other panelists," Grant said. "And this funding will help get the participants in the Virgin Islands six months of construction training, a GED or high school equivalency, internships and support from the Department of Labor, which will give them stipends while they are in the program."
Grant said a grant like this could open the door for more federal funding, which could lead to more training, job, and leadership opportunities for participants on St. Thomas and St. Croix.
Henderson said the team will be coming back at the end of January for another conference that will focus more on concrete plans to "help diffuse the violence."