Christmas will come to downtown Charlotte Amalie this Friday, with Miracle on Main Street and the lighted boat parade set to fill the streets, shops, and harbor with revelry.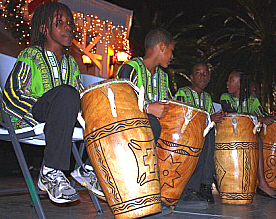 "It's a lot of locally made goods and products and crafts," St. Thomas-St. John Chamber of Commerce Executive Director Joe Aubain said. "It is really cool."
This is the 19th annual Miracle on Main Street, which will start around 8 a.m., with the first vendors setting up in Emancipation Garden, and will end at 10 p.m., Aubain said.
The festivities (see full schedule, below) will filter out from Main Street to encompass Emancipation Garden, where the Committee to Revive our Culture will host its annual Holiday Fair with over 50 vendors.
The fun will also spread into Palm Passage, where school groups will provide free musical entertainment, and into Post Office Square, which will be filled with nonprofit organizations that do good work in the community.
Around 6:30 p.m., the downtown crowd will flock to the waterfront to watch the V.I. Charter Yacht League's 12th annual boat parade sweep across the sea.
The Yacht League's Executive Director, Erik Ackerson said he expects the parade to include close to 14 entrants, among them the 60-foot motor vessel Friendship, Michael Coyle's sailboat Fury, and a miniature tugboat so cute it is sure to please.
The procession of decorated party boats will depart from Crown Bay Marina around 6:30 p.m. and pass several times before the crowd assembled along Veterans Drive.
"It's a solid wall of people and kids and families and cameras and flash bulbs," Ackerson said. "It's a lot of fun."
Ackerson also said the parade is made possible by support from the St. Thomas-St. John Chamber of Commerce, V.I. Tourism Department, Budget Marine, Crown Bay Marina, and Tickles Dockside Pub, which is hosting its own post-parade award party.
The boat parade nicely complements Miracle on Main Street, which works to get the entire community out for an evening of food, live entertainment, and fun, Aubain said.
"It's getting a little bigger and better every year," Aubain added.
Schedule of Events – Miracle on Main Street: Friday, Dec. 16:
Emancipation Garden
10 a.m. until evening: Committee to Revive Our Culture's Holiday Fair with arts, crafts, local foods and drinks
10 a.m.: DJ entertainment
6:30 p.m.: Sweeta Band
8 p.m.: Christmas tree lighting with Gov. John deJongh Jr.
Palm Passage Parking Lot
5:30 to 7 p.m.: Joseph Sibilly School Steel Orchestra
7:30 to 7:45 p.m.: Joseph Gomez Elementary School High Steppers
8 to 8:20 p.m.: Sebastien Majorettes
7 to 10 p.m.: JDPP Jammerz
Waterfront at Banco Popular
Michael J. Kirwan Terrace Resident Council Wess Stars
Rolex
Roaming
The Mongo Niles Cultural Dancers
Post Office Square
6 p.m.: Tree lighting sponsored by Sparks
6 to 9 p.m.: Territorial Court Rising Stars Youth Steel Orchestra
Many nonprofit organizations set up throughout the square
Main Street
6 to 9 p.m.: St. Thomas All Stars; Ulla Muller Elementary School Steel Orchestra; Milo's Kings; BCB All Stars Steel Orchestra; Encore Band; DJ Aluda
Numerous bars, restaurants and retail shops will be open and offering Miracle on Main Street specials
Waterfront
6:30 p.m.: V.I. Charter Yacht League Boat Parade
– Schedule provided by St. Thomas-St. John Chamber of Commerce.