Members of Crucian Heritage and Nature Tourism are still tabulating expenses and donations to determine how much the group cleared from its "Crucian Fusion" fundraising event, but they took a moment Tuesday to present awards to the chefs who took part in the event.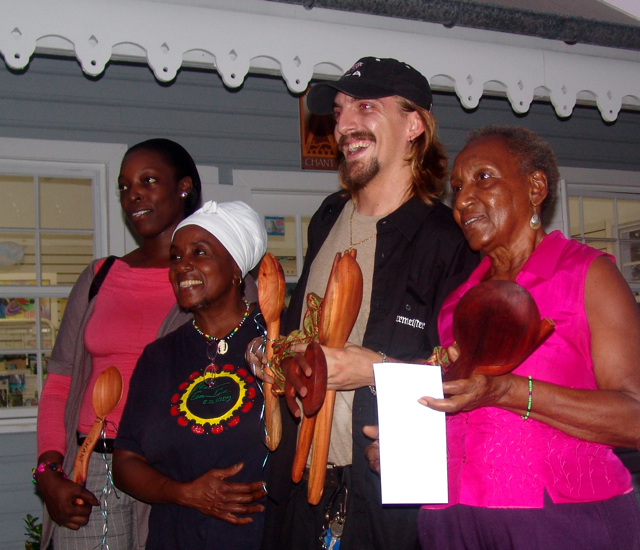 "Crucian Fusion" challenged cooks to take local cuisine and give it a twist that would take it to the next level. A panel of judges scored all the entries during Friday's event, and awards were presented in seven categories.
First place winners received a hand-crafted mahogany spoon and fork made by DeRay's Model Ship Building Concept, and a $50 gift certificate from Plaza Extra. Those who took second prize received hand-crafted mahogany Fungi spoons, also by DeRay. Third place finishers took home a set of calabash bowls by Veronica Gordon.
Frandelle Gerard, CHANT's executive director, thanked the many businesses and individuals who came together to support the event, including the Department of Tourism, Diageo, Cruzan Rum, the Sandcastle and Buccaneer hotels, and Merchant Markets and Quality Foods.
She said several of the chefs who took part have also received offers to cook for upcoming events, and added that CHANT staffers are already talking about next year's event.
The winners were announced in the courtyard outside the CHANT office on the Strand in Frederiksted.
The winners were:
Appetizers: 1st place, Brian Wisbauer and Ridge to Reef Farm, Fish Pudding; 2nd, Jon Scribner of Turtles After Dark, Wahoo Ceviche.
Soup: 1st, Turtles After Dark, Man Soup; 2nd, Wala Hendricksen of UCA's Kitchen, Veggie Soup; 3rd, Camisha Lynch, Conch Chowder.
Side Dish: 1st, Turtles After Dark, Pina Colada Potato Stuffing; 2nd, UCA's Kitchen, Maroon Delight; 3rd, MiVi Mehson, Fungi Masala.
Entree-Vegetable: 1st, Veronica Gordon, Ital Stew/Rice;
Dessert: 1st, Beachside Café, Banana/Guava Bread Pudding; 2nd, Jaccar Organic and Natural Sorbet; Sorbet; 3rd, Camisha Lynch, Mango Guavaberry Cheesecake.
Beverage: 1st, Veronica Gordon, Baobab Juice; 2nd, Sandra Gerard Phaire, Guavaberry Rum; 3rd, Arlene Peterson, Guavaberry Liqueur.
LeChon Sauce: 1st, Chef Tahira of Divine Delight Delectable, Mango BBQ Sauce; 2nd, Chef Camisha Lynch; Beachside Café, Vanilla Pineapple BBQ sauce.
Gerard said she is still calculating the expenses and doesn't yet have a final figure. She did say that 235 people attended, based on the number of plates distributed. Earlier in the week, there was a $1,000 a plate dinner prepared by celebrity chef Orlando Santos that drew 14 diners.
Before the awards even broke up, Turtles After Dark owner Jon Scribner told the other gathered chefs that he looked forward to working with them again at the second annual Crucian Fusion a year from now.