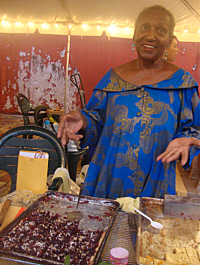 Joyce Wooden worked her way through the sounds and the sights and the smells – oh! the smells! – of the "Crucian Fusion Tradition Gone Gourmet" food event Friday evening at Fort Frederik, looking for something special.
"Do you have something not so sweet?" she asked at one booth.
When asked why, she replied, "I've had plenty of dessert, and I'll have plenty more. I need something salty."
Wooden and her husband Wayne, who spend four months every winter on St. Croix, found it at the booth run by the Ridge to Reef Farm which had a fish pudding and hearty fishhead soup, perfect to relieve a palate jaded by booth after booth of stunning deserts.
Friday's event was the first of what organizers plan to make an annual event. It was a fundraiser for Crucian Heritage and Nature Tourism, and CHANT's executive director Frandelle Gerard was smiling at the result of months of planning and organizing.
According to Gerard, 19 groups and individuals took part as chefs, serving up a variety of classic Crucian dishes with interesting touches that elevated them beyond their normal state.
Chef Tahirah, who offers a menu of vegan and vegetarian products at her Frederiksted kitchen, served up a mango-apricot cheesecake with an orange liqueur, and another that mixed the very distinctive flavors of cranberry and sorrel.
"I take cultural ideas and flavors from other cultures and I ask, 'What if?'" she said. "It's an art – we call it the culinary arts for a reason."
Alisha Westerman took something quintessentially Crucian – johnny cake – and kicked it up a notch by giving it an organic chocolate filling.
"I just wondered why people didn't do that. They do cheese fillings," she said. "I really wanted to follow the theme of the night – Crucian gone gourmet. I just wondered what could I do that was traditional and take it to the next level."
Gerard didn't have a final count on the turnout, but said she had printed 150 of the $75 advance tickets and had only five or six left. There were also the $50 regular tickets, but she didn't know how many of those had been sold.
Celebrity chef Orlando Santos was the center of attention, and throughout the night he was surrounded by family, old friends and many admirers gathered around to take pictures and share a moment with the St. Croix native from Bravo TV's reality show, "Top Chef: Just Desserts."
As part of the fundraiser, Santos on Wednesday had prepared a six-course meal. Fourteen CHANT benefactors paid $1,000 a plate to share the meal, which Gerard called "amazing."
As to whether the "Crucian Fusion" had been successful enough to warrant making it an annual event, Gerard emphatically said, "Definitely. Halfway through (Wednesday's) dinner we were already making plans for next year."
Wine was provided by Dionysus Wines, and Cruzan Rum and Diageo provided spirits.