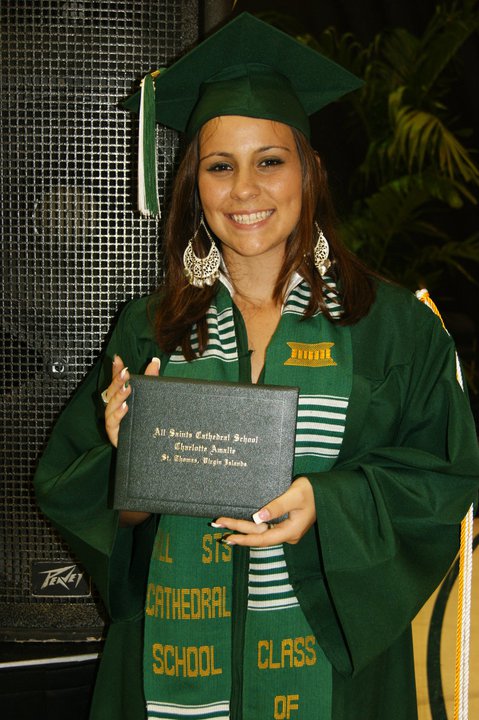 A 17-year-old Virgin Islander died Monday of injuries sustained in a head-on collision on Interstate 64 near Hampton, Va.
Kimberley Brin, a 2011 graduate of All Saints Cathedral School on St. Thomas, was a passenger in a vehicle struck head on by a driver going the wrong way on the interstate early Sunday morning.
Brin was a freshman at Christopher Newport University in Newport News, Va. Her two best friends spoke Tuesday of Brin's enthusiasm for life and, especially sports.
"She was a tomboy," Rosana Evans, 18, said. And she loved the ocean, according to Chaulia Todman, also 18.
Evans and Todman both attend the University of Tampa. Both expressed disbelief at the loss of their friend.
"I don't believe she's gone," Evans said. "I am still waiting for her to text me."
Rose Maduro, a second grade teacher at All Saints who had known the young woman for more than a decade, mirrored the teens' description of Brin, saying she was a "very happy person" who loved softball and volleyball.
Maduro said Brin was always willing to help with the younger children. "She was very caring and nurturing." Todman went so far as to say, as did Maduro, that Brin was never negative. "It used to drive us crazy," Todman said.
Both Evans and Todman recalled one of the last times the three had been together on a prom night.
"Time stopped," Todman said. All the cares and worries the three had went away on that "surreal" night. "Nobody wanted that night to end," she said, adding it wasn't like anything exceptional happened. "We were all together; we love each other so much."
The crash that ultimately took Brin's life killed her college roommate, Sierra Smith, instantly, according to a story in the Virginia Daily Press.
Virginia news reports say Jesse Leon Evans, 33, the driver of the Chevrolet Tahoe that struck the Ford Taurus in which Brin and Smith and three other young people were riding is due in court later this month on DWI charges related to a Sept.16 incident.
One news report carried by WVEC.com said alcohol was also involved in the fatal crash and charges are pending.
Just a day after the death of one third of their young triumvirate, the remaining duo tried to make sense of their feelings.
"I don't think it will seem real to us until we get back home and face it," Todman said, adding, "I feel like her spirit is already there waiting for us."
"We were always together," Evans said. "Why her?"
Kimberley Brin was the daughter of Celeste and Albert Brin. No further information about other family members or funeral arrangements was available as of publication time.