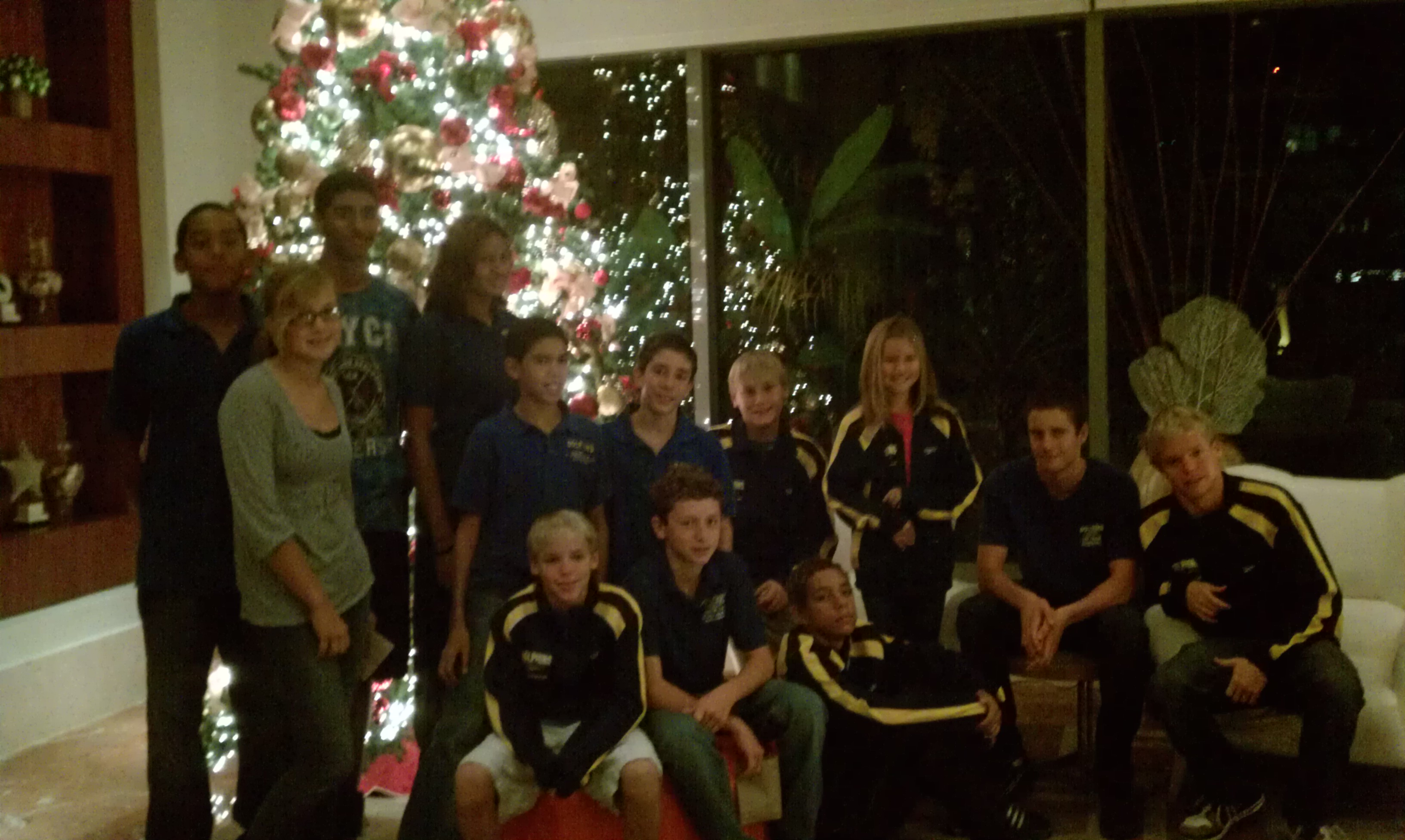 Over the Dec. 3-4 weekend, 15 swimmers from the St. Croix Dolphins Swim Team traveled to San Juan, Puerto Rico, to participate in the island's Campeonatos Piscina Corta (Short Course Championships). The meet included 600 swimmers from 25 teams, and all participants had to achieve a qualifying standard in order to compete. Because the meet was the Puerto Rican championships, the Dolphins were allowed to swim as exhibition only, meaning they were ineligible for awards or points. According to Dolphins Head Coach John Vasbinder, "We were invited guests, and this meet presented a chance for our swimmers to race the best in Puerto Rico at a great national facility."
The Dolphins did not disappoint. Overall, the team achieved 67 personal best times, with several swimmers producing best times in each one of their events. New Virgin Islands records were set in six events. Bryson Mays broke the boys age 15-17 100m Butterfly record with a time of 1:00.28, and Victor Torres broke the boys 15-17 50m Backstroke record with a time of 30.85. Two new records were set in the 200m Freestyle and Medley relays by the boys age 11-12 team of Matthew Mays, Webster Bozzo, Nicholas Dascher, Jonathan Thomas, and Adriel Sanes. In addition, two new records were set by the boys age 13-14 relay team of Alex Lewit, Evan Warehime, Tony Hendricks, and Nico Stines in the 200m Freestyle and Medley relays. Finally, two swimmers obtained qualifying standards to compete in the CARIFTA Swimming Championships, to be held in the Bahamas in April 2012. Nico Stines joined the 10 Dolphins already qualified for CARIFTA by swimming the 200m Freestyle in a time of 2:05.22, and Jonathan Thomas qualified in the 200m Breaststroke with a time of 3:00.79.
Coach Vasbinder was very pleased with how his team performed during the meet. "It was a great meet leading up to our Virgin Islands Short Course Championships, which will occur on Dec. 17, at the Beeston Hill Fitness Center."
In addition to the upcoming championship meet, the Dolphins will host their annual Sea Swim on Jan. 8, 2012. Swimmers of all ages and abilities are encouraged to sign up for this great event by going online to
www.dolphinsvi.org
or calling 719-7946 to register. Visiting college teams from Assumption College and Montclair State University will be attending the event.