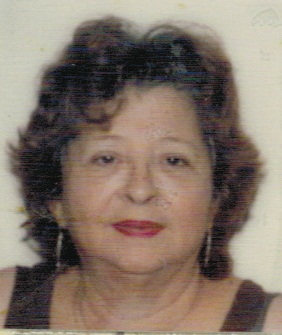 Hilda Belardo of Estate Sion Farm died on Dec. 2 at her residence. She was 75 years old.
She is survived by her daughters: Marysela Gonzalez and Maria B. Towers; sons: Carlos J. Gonzalez. Jr., Marco A. Gonzalez, Miguel A. Gonzalez and Julio C. Gonzalez; stepsons: Carlos A. Gonzalez and Luis Gonzalea; grandchildren: Geronimo Newton (Roach), Jeremy Newton (Tupi), Tamara Newton, Alfredo Andrews (Ali-baba), Eddie Benitez (Paylo), Richie Gonzalez, Luis Gonzalez, Robert Gonzalez, Shawn F. Towers (Snipes), Michael H. Towers (Mikey), Kamilah Gonzalez, Ryan Gonzalez, Victoria Gonzalez and Michelle Nico; and great-grandchildren: Geronimo Jr., Gira, Geron, Jalen and Jalay Newton, Tiara, Tishaila and Topaz Newton, Keith Horsford, Kaliya and Kyle Illis, Kimora Jarvis, Kishaila Macedon, Anya Andrews, Damien Benitez, Gianny Towers, Shawn Towers Jr. (Chino), Dominic and Isiah Gonzalez and Aneemah Gonzalez;
She is also survived by daughters-in-law: Vanessa Gonzalez and Rose M. Gonzalez; son-in-law, Hiram Towers; sisters: Carmen Dora Belardo Camacho and Eva Bermudez; brothers: Modesto Belardo and Ernestino Belardo (Cucho); nieces: Vilmagda Edwards, Romelia Nanton, Maria Camacho, Gioly Bermuudez, Eva Bermudez, Luz E. Webster and Wilma Galiber; nephews: Glorin Camacho, Carlos Ortiz , Jr., Wilson Bermudez, Pablo Bermudez (Chichi), Jose Bermudez (Holl), Venerando Bermudez (Caco), Gustavo Bermudez, Antonio Belardo, Jose Belardo and Rey Belardo; and great nieces and great nephews: Ebony John, Melissa and Minerva Nanton, Luz E. and Wilfredo Bermudez Jr., Lisandra, Waleska and Estien Simon, Joey, Paul, Juan and John Derek Bermudez, Joel, Sungi, Josua and Jonathan Soto, Alex Estien, Damara, Chelsie, Paul, Pablo Jr., Franky and Margie Bermudez, Gustavito, Ama and Masika Bermudez.
Other survivors include aunts: Mariana Carrasquillo, Lourdez Acevedo (Pucha), Delora Acevedo and Petrin Acevedo; uncles: Apolinar Acevedo and Mauro Acevedo; special friends: Rosa Cruz and family, Teresa Monell and family, Edna Encarnacion and family, Juanita Carcino and family, Escocia and Petra (Tin) Rivera and family; cousins and other relatives: Delora and Yoland Acevedo, Herman and Diana Carrasquillo, Josefina Ramos, Milagros Encarnacion (goddaughter), Johnny Perez (adopted grandson), Milagros Rivera and family, Claudette Morton and family and Barry (Selassie) Joseph and family; as well as other relatives and friends too numerous to mention.
There will be a viewing at 10 a.m. and a funeral service at 10:30 a.m. on Friday, Dec. 9, at Holy Cross Catholic Church. Interment will follow at Kingshill Cemetery.
All arrangements are by James Memorial Funeral Home Inc.