The Bennie and Martha Benjamin Foundation capped off 11 years of donations to the territory's health care system with the presentation of two checks Tuesday to continue funding the Schneider Regional Medical's nurse extern and surgical technician programs.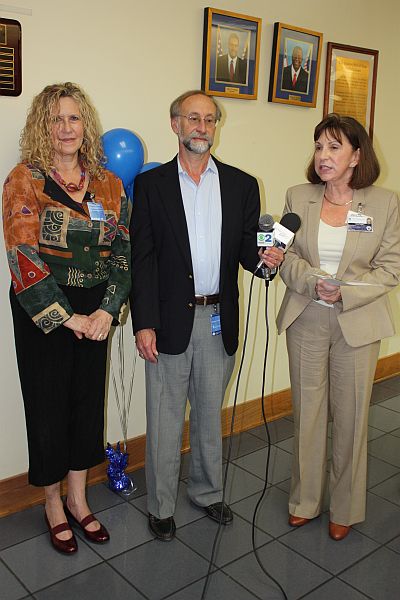 According to Alice Taylor, chief executive officer at SRMC, both programs have been successful and saved the hospital hundreds of thousands of dollars that would have otherwise gone to traveling nurses or tech staff.
The nurse extern program was established six years ago, and works with students from the University of the Virgin Islands, who are brought in during the summer and exposed to a range of clinical learning and working experiences that supplement what they are learning in classes throughout the year.
David Beale, the foundation's executive director, said he has seen the program evolve since its inception, with more nurses graduating from UVI opting to stay on island and work instead of traveling abroad.
"Six years ago, the graduating class of students from UVI all left island, and today, almost all stay and work here at Schneider Regional, and that is a big improvement," Beale said.
"And that's true of the health care system in general. By creating more educational opportunities, we see more professionals agreeing to stay and raise the level of health care here, and continue improving the lives of patients throughout the territory," Beale added.
Beale and his wife, Tina, presented Taylor with an $11,527 check Monday for the program, along with another $30,000 for the recently implemented surgical technical training program.
The surgical technical program is based on another partnership established between the hospital and Keiser Career College in Florida. Running for 10 weeks, the program provides professional development opportunities for SRMC employees who have one year of experience in their field and are interested in working in the operating room.
Of the seven individuals chosen for the program, five were from SRMC. The Bennie and Martha Benjamin Foundation's check paid for six of those individuals to participate in the training.
The hospital has also contracted with nurse travel agencies for surgical technician staff, but, Taylor said Monday, being able to train and use full-time local staff will save the hospital approximately $200,000.
"This program has been in place now for over a year, and I always get rave reviews from the surgeons and the staff," Taylor said.
Taylor and other hospital staff recognized the foundation's contributions with an official plaque that was also unveiled in the hospital's lobby Monday.
Established in 1991 by St. Croix native and world-renowned musician Claude A. "Bennie" Benjamin, the Bennie and Martha Benjamin Foundation has provided more than $1.7 million in scholarships and grants.
"[The Benjamin Foundation's] mission is to enhance the provision of health care services in the U.S. Virgin Islands by awarding educational scholarships for advanced degrees to those persons who commit to return to the Territories to practice in their chosen fields, and to award grants to medical, health, educational and community facilities which further the quality of health care in the United States Virgin Islands."
For more informaiton visit their website at http://www.benniebenjaminfoundation.org.