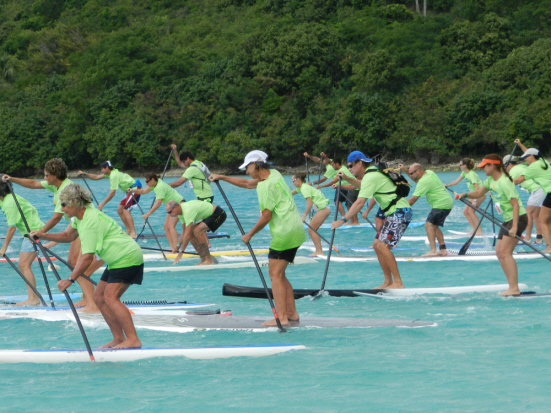 Fit, fresh-faced and barely short of breath after crossing the finish line on Sunday, Elite Warrior Race winner Nick Leason, 26, welcomed the winds that rocked the seven-mile stand-up paddle boarding course in Brewers Bay.
"Working the wind was kind of fun," said Leason, a resident of Aguadilla, P.R., and an engineer at MHL custom boards.
"And the course," added Leason, who raced on a 14-foot MHL, "was just beautiful."
Whether they were there to win a competition, complete the course or simply watch the fun, those who came out to the second annual V.I. Get Up Stand Up Races appeared to truly enjoy themselves despite challenging wind conditions and an early-morning start.
"Mad props to everyone who was at Vegas Night and made it here this morning," emcee Web Fingors said, referring to the previous evening's cocktail-fueled fundraiser for Montessori School.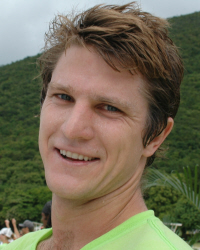 Soon Barefoot Buddha lunch would be served, Fingors added, so those who stayed out too late among the event's nearly 90 racers could "get rid of those hangovers once and for all."
Like Leason, Heather Baus, the Elite Warrior Race top women's division finisher, also came to the competition from Puerto Rico. After Baus completed her race's fourth and final lap – which took paddle boarders from the beach, to the airport runway, out across the bay and back to the beach – her family rushed to her side.
"You did awesome," said Baus' 9-year-old daughter, Savannah, who also took home several honors in the 3.5-mile Weekend Warrior Race.
Weekend Warrior finisher Josh Slayton, 31, said he was among a group of paddling enthusiasts who ferried over from St. John for the challenging competition.
"Sometimes you were paddling and not even going anywhere because the wind was blowing so hard," said Slayton, a boat captain. "The next leg you were practically surfing."
Fellow Weekend Warrior Dorene Carle, 67, was met by a crowd of proud friends at the finish line.
"That was brutal," Carle said. "I'm just hot and tired."
Once she regained her breath, Carle said she first tried stand-up paddle boarding about a year ago, at the encouragement of her son, Colin Butler. Butler and Adrianne Baird co-organized the races to benefit the couple's nonprofit, SUPVI Inc., which seeks to promote stand-up paddle boarding and keep plastic trash out of the ocean.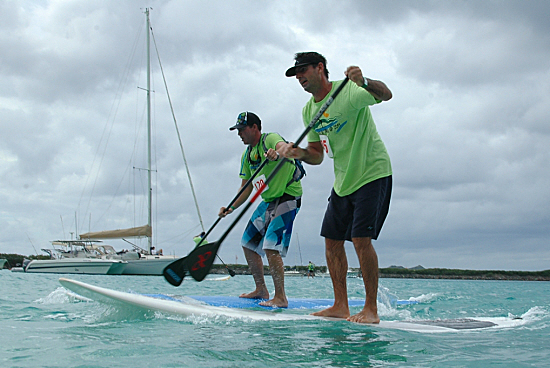 Carle said that over the last year, she reversed her type 2 diabetes by making healthy diet choices and committing to a regular exercise regimen that includes regular paddling excursions.
Carle compared finishing her first-ever race on Sunday – and the newfound fitness that made it all possible – to getting an amazing holiday gift of a longer, healthier life.
"It's almost like Christmas," Carle said.
Final Results
Elite Women
1st: Heather Baus, Puerto Rico
2nd: Gail Vento
Elite Mens 14
1st: Nick Leason, PR
2nd: Adam Cole BVI
3rd: Greg Jaudon, PR
Elite 12 ft 6 in
1st: Pablo Cobral, PR
2nd: Bob Bowen, VI
3rd: Mike Greaves, VI
Womens Weekend Warrior
1st: Debbie Dunham, VI
2nd: Savannah Baus, PR
3rd: Elizabeth Conklin, VI
Mens Weekend Warrior
1st: Andres Gomes
2nd: Ethan Luppert, VI
3rd: James Rosebury, VI
Boys 5-9
1st: Malachi Matthews, VI
2nd: AdrianTurbe, VI
3rd: Christian Belcher, VI
Girls 5-9
1st: Savannah Baus, PR
2nd: Carter Maltby, VI
3rd: Judah Diamondback, VI
Boys 10-14
1st: Shaw Clements, VI
2nd: Osayande Francis, VI
3rd: Jesse Wyatt, VI
Girls 10-14
1st: Hannah Clements, VI
2nd: Marina Rae Parlats, VI