Longtime St. Croix resident Marge Tonks, who just turned 94, was recently selected as the Faith in Action National Network Volunteer of 2011. Tonks is a volunteer in the Caregiver Project of the Interfaith Coalition of St. Croix, which is part of the Faith in Action National Netw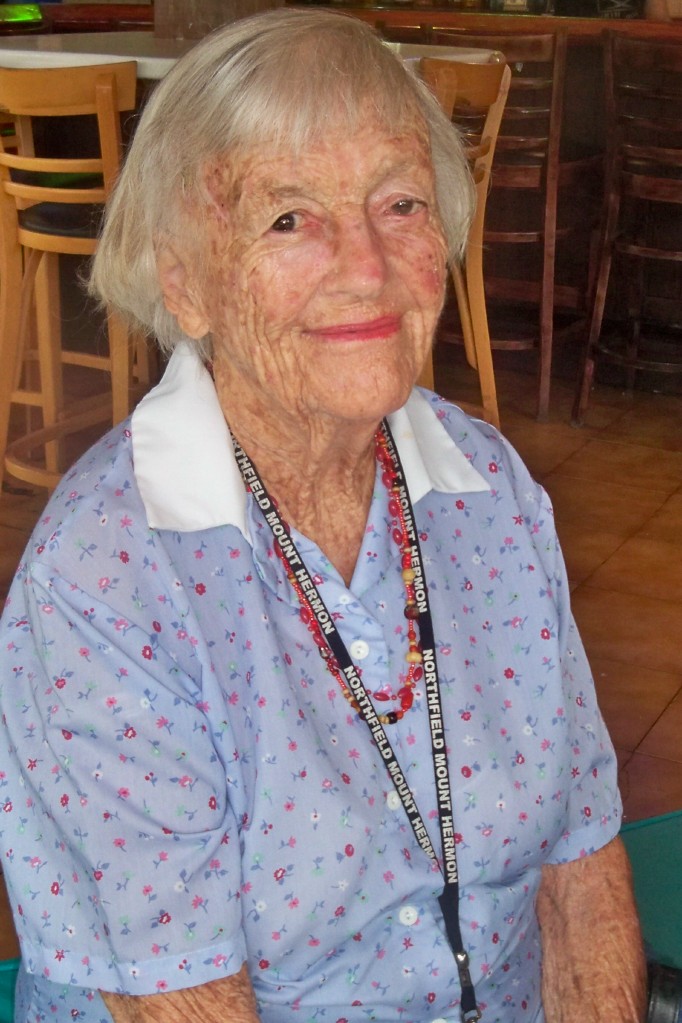 ork.
Tonks has been volunteering with the elder caregivers program since its inception in 1996 when she was a mere 78 years old.
The volunteer caregivers help out elderly and disabled folks with the simple daily tasks of living. Tonks put her energy into making folks feel needed, while they were in need of her.
One of her friends was a piano virtuoso, living with macular degeneration. After assisting with her weekly shopping and other chores, Tonks got piano lessons in return. She helped another elder with Alzheimer's who taught Tonks Spanish.
Elisa McKay, caregivers coordinator, said she has known Marge for at least 30 years. "I find her to be quite a woman, who never ceases to amaze me," McKay said. "As long as I've known her, I always learn something new about her. I guess when you live for as many years as she has, you have a multitude of information and experiences tucked into your persona."
Tonks was born in Providence, R.I., in 1917 to Phillip and Alice Mitchell, of Purtian ancestry. She says she became a pacifist when she was 13 -years-old and has worked for peace continuously ever since. She hopes for an end to all wars. "War is unthinkable," she said.
She has her bachelors from Smith College in Northampton, Mass., and she has a masters degree in teaching foreign language from Boston University. She taught French at Boston University and at Beaver Country Day School in Chestnut Hill, Mass.
She was married to Robert Tonks for 67 years and she has three children, seven grandchildren and seven great-grandchildren.
When she and Robert retired in 1968 they set sail from Boston and lived on their 32-foot sailboat for 17 years. She says the Galapagos Islands stand out as the most memorable islands they explored. The couple lived off the coast of Spain, France and Yugoslavia. They sailed the waters of the U.S. Virgin Islands and liked what they saw so they decided to become legal residents in 1969. In 1985, Tonks told her husband she wanted to settle down and live on land.
She still drives and stays very active. She has won her age category in the Women's Coalition's annual Women Race almost every year except for the years when her grandchildren in the States graduated. "They have to keep adding age categories for me," Tonks said with a big smile.
She goes to the Writer's Circle every Monday getting together with other writers to edit and discuss their works. She keeps journals and is writing her memoir for her grandchildren.
She swims daily in the pool at her home and does some gardening. "My mind is as active as a 75-year-old mind," Tonks said. "But my body is not."
She attributes her vigor to a gratitude attitude and positive living. "My spirituality keeps me healthy." Tonks is an active and faithful Unitarian.
On receiving the award, she said she thinks McKay should have received it because she is an excellent director. "Maybe this will inspire more people to be caregivers reaching out and being connected," Tonks said.
She says she hopes to see the Source at her 100th birthday party.
The Faith in Action National Network, which changed after Tonks' award to National Volunteer Caregiving Network, is a membership network of local community Faith in Action programs, regional and state Faith in Action collaboratives, and individuals who support Faith in Action. Membership is open to any organization or individual who believes they can benefit from the Faith in Action National Network.