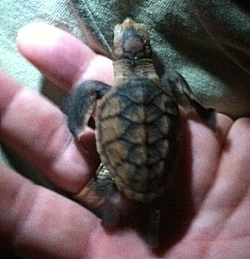 A sharp eye and good hearts may have helped save some Hawksbill turtle hatchlings that went astray Thursday at Friis Bay on St. John's East End.
It was around 9:15 p.m. when Miss Lucy's Restaurant manager Gui Walsh and his staff spotted a hatchling turtle headed toward the restaurant instead of safely out to sea. He said the restaurant was about to close when he noticed a cat playing with something on the beach.
"It was a turtle, and we picked it up and put it back to sea," he said.
He and the staff found about a dozen others and also put them in the water, but they kept heading back toward the restaurant.
Surmising that the restaurant's lights probably attracted the hatchlings, he shut off the lights. A staff member went in the water with a flashlight, and the turtles swam towards the sea.
"The turtles are naturally drawn to moonlight and starlight so that's why they go toward artificial light," V.I. National Park ranger Deanna Somerville said. She said the turtles will get reoriented and go out to sea.
Walsh said he thinks the turtles hatched at a beach near the restaurant, located along Route 107 between Coral Bay and Salt Pond.