Job placement, vaccinations, anti-bullying initiatives, and dropout prevention were some of the areas of fruitful discussion when the Children and Families Council met at Government House Wednesday, according to a statement from Government House.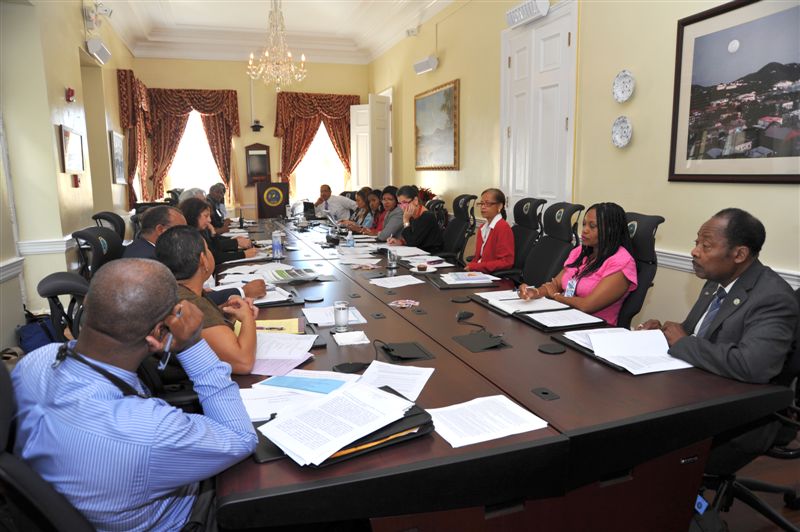 As chairperson of the Council, first lady Cecile deJongh led a fruitful discussion exploring creative options in addressing the ongoing challenges associated with the economic downturn and as a result of the impact of the 2011 retirement incentive plan.
"As an advisory committee of public, private, non-profit and faith-based partners, we are mindful of the economic impact of the recession on budgets and the associated strain on providing services," deJongh, who chairs the council, said.
"Recognizing the benefits in leveraging partnerships and maximizing resources, it is incumbent on us as a government, and also as a community, to bridge the gaps by bringing parties together to collaborate on common goals, streamlining services and creating new opportunities for progress," she added.
During the meeting, Council members discussed programs designed to empower the Territory's families through mentorship, special trainings, professional development, and educational enrichment.
Department of Labor representative Fernando Webster discussed the progress of the department's summer and youth employment programs, including the YouthNet initiative, within the context of ensuring support to families within these difficult times. Webster indicated that 597 youth were served in 2011 — 300 in the St. Thomas/St. John district and 297 in the St. Croix district. Webster also noted that the Labor Investing for Tomorrow (LIFT) program successfully placed 25 students in 2011 with employers geared towards their particular interest of study.
"By offsetting costs in innovative ways, creating new partnerships and reallocating available resources, our goal is to increase the experience for clients and provide youth with practical, hands-on experience in their chosen career field, or otherwise enable their professional development. While the effects of the recession are very real, we are moving forward in providing career exploration assistance, career coaching, and job placement," Webster said.
Noting the efforts of the department with drop-out prevention and career preparation, Webster continued, "We are cultivating cost-sharing relationships with the private sector and collaborating with the Youth Council to maximize the resources available."
A common theme at Wednesday's meeting was the need to continue to identify potential synergies among community partners and integrate data tracking systems of the government to not only identify any duplication of services, but also to electronically access information from various databases.
"Various grants are in development that would enable the government to better integrate our data-tracking systems, especially for children in grades K-12, including their professional development and work experiences," deJongh said. "This integrated approach would enable a more streamlined method of collecting information, a key component in determining eligibility of benefits and other services. Especially during these economic hard times, such efforts to streamline services just make good sense."
Marc Jerome, Acting Health Commissioner, provided an update on the department's Vaccine for Children immunization program, which provides federally-funded vaccines to immunization providers territory-wide, a requirement for all children before entering school.
"In order to increase vaccine coverage among children, there must be a collective effort between parochial, private and public schools, daycare centers and the like, to ensure that children are adequately immunized in accordance with the V.I. Code," Jerome said.
Education representative Randolph Thomas discussed the department's efforts on the anti-bullying front, stressing he felt it important to expand the territory's pilot Olweus Bullying Prevention Program, to all schools. The program is being piloted at Juanita Gardine Elementary and Claude O. Markoe Elementary on St. Croix and Lockhart Elementary, Bertha C. Boschulte Middle School, and Joseph Gomez Elementary on St. Thomas, according to the statement.
The anti-bullying initiative is part of a greater effort to reduce the drop-out rate by improving the social atmosphere in public schools. "Thirty-four states now have anti-bullying laws on the books, and we would like to go in that direction and provide further support of the policy initiatives in place," deJongh said.
"We realize it can't be business as usual, and some economies of scale and savings are possible, which we are aggressively pursuing," Human Services Commissioner Christopher Finch said. He also pointed out the department's ongoing efforts to merge centers, and determine how best to allocate resources, given the budget crunch. Human Services will organize a service fair for the spring 2012 and will continue advocating fatherhood and mentorship initiatives throughout the year as key to strengthening families, according to Finch.
Sgt. Bridget Conow of the V.I. Police Department discussed the Weed and Seed program, as well as the Students Against Destructive Decisions initiative. Conow also provided an update on the efforts of the cadet corps in augmenting the department's community-based efforts.
Speaking on behalf of the Early Childhood Advisory Committee, Ellie Hirsh gave an update on the Campaign for Grade Level Reading initiative, targeting school readiness, absenteeism, and summer reading loss. "We are constantly moving forward as we implement plans to be better and raise levels across the board," Hirsh said.
The Departments of Justice, Housing Parks and Recreation, as well as the Housing Authority, LEPC and the Community Foundation of the Virgin Islands also provided updates on initiatives in place to assist the Territory's children and families.