Adding to the variety of World AIDS Day activities going on throughout the territory, students at All Saints Cathedral School on St. Thomas invited speakers to their campus Thursday for a seminar on the importance of protecting against sexually transmitted infections, such as HIV and AIDS.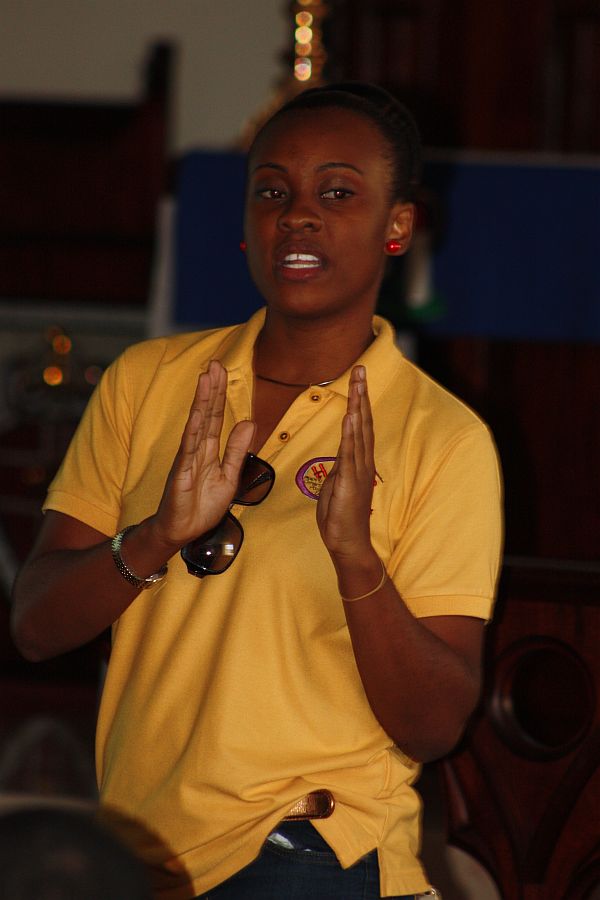 Often an uncomfortable topic with adults, the students delved right in with questions and responses during the presentation, given by Kahaina Browne of Hope Inc. All Saints principal Yvonne Barry said the 11th grade students led the charge in bringing Browne to campus as a way of educating their peers about the impact AIDS has on teens.
"From a previous survey done under the Law and You Program, we found that the students are sexually active and we want to make them as aware as possible about what they need to do to protect themselves," Barry said.
She also said the school's science program, led by Dr. Wendy Quorum, has joined in the initiative and brought in other presenters from the Department of Health during the year to speak to the students about abstinence and being knowledgeable about protecting themselves if they plan on having sex.
"With the presentation today, I find that most of the boys are really participating, and that they are taking this seriously and getting the message," Barry said.
World AIDS Day is commemorated on Dec. 1, and is dedicated to raising AIDS awareness through a variety of outreach activities. According to a release from the Health Department, more than 25 million people have died of AIDS, while an estimated 38.6 million people are living with HIV around the world.
Browne said Thursday that the theme surrounding this year's events is "Getting to Zero," which focuses on a goal of "zero new infections" for 2012.
"For us, I know we want our rate to be no more than 10 positive every year," she said. "Last year, we saw seven cases and this year, so far, there has been two," she added.
Browne also said the low number could be attributed to the small number of residents that come into the agency to get tested, but efforts are being made to reach out to the local communities to target those who might just be "too hesitant or ashamed" to speak to a counselor.
Speaking to the students, Browne stressed the importance of getting tested at least every three months, and talked about the realities of the disease. She also talked about prevention methods, and the benefits of using protection.
"I think the presentation went really well," she said afterward.
"We are also doing a march later on this afternoon, which is open to the whole community. We have the high school bands, the JROTC students, the St. Thomas majorettes, singers and speakers coming out, so this is a big thing to us knowing that people are coming out to support as we try to get them more aware about HIV and AIDS."