There were titters and guffaws, but the nearly 75 seventh and eighth grade students at Julius E. Sprauve School were clearly listening when HOPE Inc. staff spoke to them about HIV/AIDS in conjunction with World AIDS Day.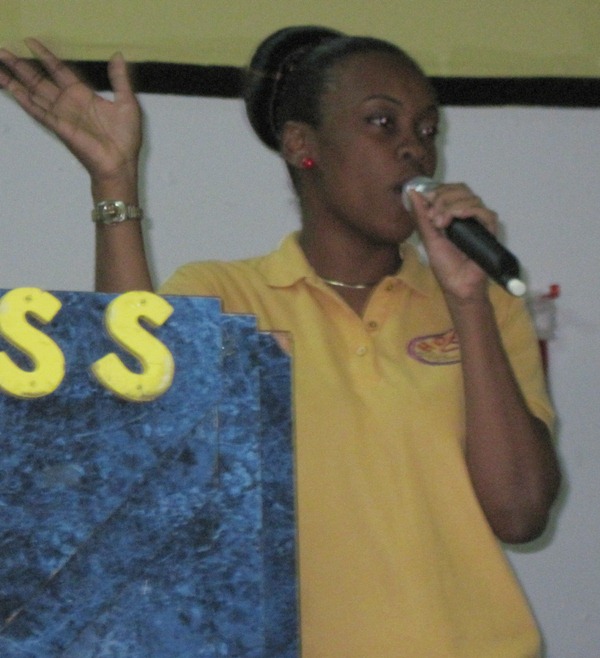 "I learned that having unprotected sex is very unsafe and everybody should get tested," Shevon Sprauve said.
Raven Phillips said she now knows that HIV/AIDS can be transmitted by ways other than having sex.
And Shakoi Mactavious said he got the message about using condoms to protect himself against HIV/AIDS.
While the condoms message got the most laughter, HOPE's HIV prevention specialist, Kahaina Browne, and the organization's peer health facilitator, Tajmah Knight, provided serious information.
"If you have a small penis, you cannot put on an extra large condom. It will come off," Knight told the students.
Browne added that they come in size small, medium, large, and extra large.
Furthermore, she told them to watch for expiration dates on condoms, adding that if it was the wrong size, was expired, or put on incorrectly they were going to have problems.
After one girl asked about female condoms, Browne said that Hope distributes condoms and demonstrates how to use them at its offices.
Browne told the students that HIV/AIDS does not discriminate.
"Anybody can get AIDS," she said.
The students also learned that blacks get HIV/AIDS 11 times more often than whites.
"Your being black puts you at risk," Knight said.
The students seemed surprised to learn that unprotected anal sex is the most riskiest way to have sex when it comes to getting HIV/AIDS though sexual encounters. However, oral sex is the least riskiest, Browne said.
Browne pointed out that most people don't go around with a sign on their foreheads indicating they are infected, so it's up to the students to protect themselves when they have sex.
The team encouraged sexually-active students to get tested, and said that if they were under 16, they needed to come with an adult who would sign for them. Testing is free.
For those who do get HIV/AIDS, good nutrition, exercise, and a regular medication regimen is important. After the presentation, Browne said there are programs in the Virgin Islands that help people with the disease.
HOPE has an office at the Marketplace shopping center on St. John, and has staff at Myrah Keating Community Health Center several times a week.
Call HOPE on St. John at 714-1540 or visit www.hopeincvi.com.