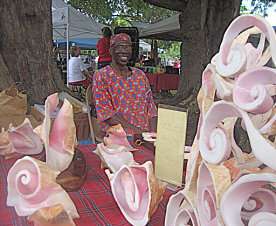 Mother Nature did her part and the artisans and craftspeople did the rest, as the 23rd annual Starving Artists Sale brought in a large crowd eager to find locally produced crafts for the holidays.
Rain had come to St. Croix intermittently – and sometimes torrentially – over the preceding three days, worrying organizers and artists that the event would by washed out. But Sunday dawned dry, if not quite clear, and the residual clouds had the benefit of keeping the temperature down. The result was weather that brought out at least 1,200 people, a significant increase over the last couple of years.
"I've come here to find Christmas stuff," said Alex Smith, who was walking the grounds with her young son, Kash. Then her voice dropped conspiratorially as she said, "and I've already found way too much. That's why I brought my big purse."
While the music of the Quelbe Ambassadors brought a bounce to the steps of the crowd, merchants expressed delight with the day, with one after another talking about the large turnout. Most said they were pleased with the response in terms of sales.
"I've been away for maybe six years," said Sandra Michael, who had been a regular at earlier sales. She was nervous about her return, but said, "It really feels the same, it's like I never left."
Lea Ann Robson of From the C, selling jewelry and ornaments made of sea glass, enthused over the energy and excitement brought by the crowd.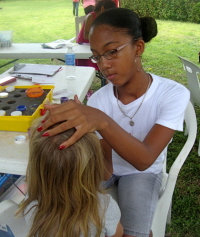 "I'm thrilled with the turnout," she said. "I love it when it's like this."
Cheryl Mason, selling her handcrafted items, said people were spending, but the day wasn't completely unblemished. The days of rain building up to the sale had left the ground soft, and some pathways were churned to mud. The wet ground also made parking more difficult, with some areas closed so that many more patrons than usual had to park on the road.
Along with the Quelbe Ambassadors, Christmas music was played in the Great House by Elizabeth Robb's piano students.
The St. Croix Landmarks Society holds the Starving Artists Sale to raise money for its museums, research archives and educational programs.