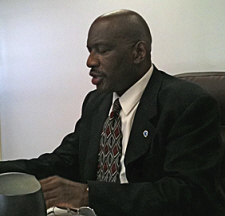 Henry White Jr. has been warned that he's going to have trouble as the commissioner of the Virgin Islands Police Department. After all, he is not from here.
"It's been made known to me quite clearly that that's going to be a problem," he said Friday morning, sitting down for his first meeting with V.I. media. "But I tend to put the naysayers aside and try to focus on the positive folks."
Gov. John deJongh Jr. nominated White Nov. 8 to replace retired Commissioner Novelle Francis Jr. White said Friday that during his interview with the governor White told him, "I can give you four years." DeJongh, he said, responded with "I've only got three."
A veteran of more than 30 years in federal and local law enforcement, White is bringing an outsider's eye to the department, and said the biggest issue is the consent decree under which the department is operating. The 2009 decree was brought on by complaints of excessive use of force by police and inadequate training and discipline.
"Many of the problems we're dealing with will dissipate as we resolve the consent decree," he said.
That means he will bring a continued emphasis on training. He also pointed to a need for a better command structure and dealing with morale issues.
"If you don't have a structured leadership, the officers tend to look for leaders," White said. Too often, young officers are being trained by colleagues with little more experience themselves, and that can lead to trouble.
In the long term, he sees the need for simplifying the structure of the entire department, but doesn't believe that will happen during his tenure at the department. He pointed out that prior to the early 1990s, New York City had three police departments. Under former Mayor Rudolph Giuliani, the departments were combined into one; not long after, crime statistics began to drop markedly.
Similarly, White said he thinks the territory would benefit from eliminating the district commands and operating the VIPD as a single department.
He also wants greater interaction between the department and the public so that citizens can know what their police department is doing and how they can help.
White started as a street cop in urban New Jersey, giving him an understanding of the basics of street policing. He was a detective and state investigator in East Orange, N.J., for eight years, and spent 22 years as an FBI special agent. He then was chief of police in McDonough, Ga.
White managed civil rights issues for the FBI, making him aware of the issues VIPD currently faces in relation to the consent decree.