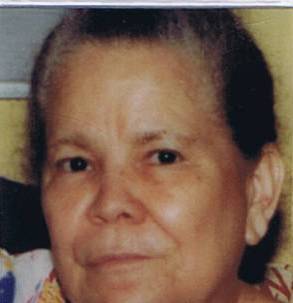 Isabel Monserrate died on Nov. 20 at her residence. She was 87 years old.
She is survived by her
mother,
Petrona Monserrate; daughters: Antonia Perez, Mercedes Nieves, Aurea Pastrana Lima, Olga Iris Pastrana Lima and Maria Isabel Pastrana McDonald;
sons-in-law: Mario Lima Sr., Pastor Hector L. Lima Sr., Charles McDonald; granddaughter,
Jessica Rambrock; grandsons: Angel Luis Saldina, Ricardo Javiel Saldina, Mario Lima Jr., Orlando Lima, Hector Luis Lima Jr. and Edgardo Lima; great– granddaughter: Brittni Marie Saldina, Kacey Mariah Saldina, Miranda Delaney Saldina, Diamarrietta Shantia Lima, Bianca Lalique Lima and Eliana Elise Lima; great-grandson,
Angel Ricardo Saldina; special friends:
Juanita Lima, Felicita Lima and Isidra Falera; as well as other relatives and friends too numerous to mention.
There will be a viewing held at 9 a.m. followed by a funeral service at 10 a.m. on Monday, Nov. 28, at Davis Funeral Home Chapel. Interment will be at Western Cemetery No. 3.
All arrangements are by Davis Funeral Home, 774-1464.