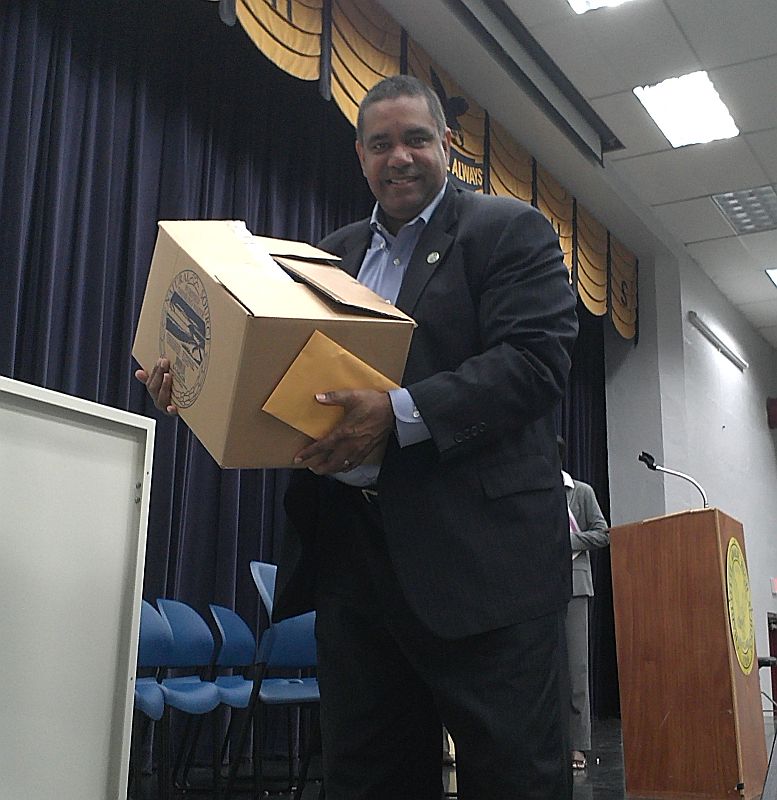 For the second year running, Charlotte Amalie High School kicked off its holiday season Monday with a Thanksgiving food and toiletries drive that brought in dozens of boxes of goods for Catholic Charities of the Virgin Islands.
The drive was spearheaded by the school's Jobs for American Graduates (JAG) career program and brought support from the student body, faculty and staff, and the community. CAHS JAG Coordinator Josette Illis said the students put together 22 boxes of food, six boxes of clothes and three boxes of toiletries over the past three weeks, up from only 12 boxes they collected last year.
"I was so overwhelmed with joy when the JAG students and I were packing all of the items up," Illis said, adding that she was still receiving contributions over the weekend and was impressed by the large number of students that continued to give, bringing upwards of 20 items during the drive.
"Here at CAHS, and through the JAG program, we are teaching our students the importance of caring and sharing with their fellow man," Illis said. "I can think of no better time to do that than Thanksgiving."
On hand Monday to receive the donation were Gov. John deJongh Jr., Catholic Charities of the Virgin Islands Executive Director Michael Aiken, Department of Labor representative Cindy Richardson, CAHS Principal Carmen Howell, and Cira Burke, the Department of Education's intervention services director for the St. Thomas-St. John District.
"There are so many other individuals that are less fortunate than we are," Burke said to students during the ceremony. "We are facing hard economic times, globally, and for you to gather 22 boxes of food to donate is not something to be taken lightly."
DeJongh, who sits on the national JAG board and recently chaired a meeting, also commended the students on their efforts.
"For all of you to go out and gather food, clothes and toiletries, you are learning that this world is not just about you and me, it's about us all coming together and extending our hands to those in need," he said.
JAG is a nationally run program with 33 chapters throughout the states and territories. Sponsored locally by the Labor and Education departments, JAG is intended to boost school graduation rates, decrease drop-out rates, and prepare students successful careers after high school and college.