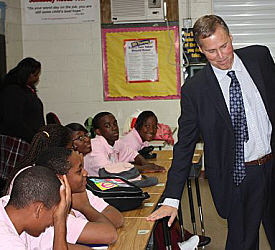 Ivanna Eudora Kean High School's first ever ninth-grade career fair gave students a glimpse of the working world and the skills they need to become successful.
Students from across the campus scurried from room to room to listen to a variety of speakers that talked to them about their professions. On the top floor, attorney Michael Quinn spoke to students about what it takes to become a trial lawyer, while Laura Boschulte met with a group downstairs to discuss how she became a veterinarian.
"Our meeting went extraordinarily well," Quinn said after speaking to a group of honors students. "There's a lot of really smart students here. I looked in their eyes, and I can tell that they have the spark needed to become a great trial lawyer."
Quinn spoke to students about his experience in the Jamie Cockayne murder trial and how hard defense attorneys work to prove that their clients are innocent.
"They asked me straight out if I'd ever had a client that I thought was innocent but still went to jail," Quinn said. "And the answer to that was yes. But I told them that's what motivates us as criminal defense lawyers. We always want to do the best job for our clients, so they don't have to endure something they don't deserve.
"And the kids were great. For every answer that I gave them, they still wanted to know more."
Down below, Boschulte talked to students about all the steps it takes to become a veterinary doctor, starting with doing well in high school and ending with getting properly licensed. She stressed that while the entire process seemed like a lot of work, it is still rewarding in the end, especially if the student is passionate about becoming a vet.
"I could tell that they were really interested by the questions that they asked," Boschulte said. "There were at least two students in there that said they really wanted to become veterinarians. And I told them that they should keep at it and concentrate on their work. While it all seems hard in the beginning, it is actually very rewarding when you get to the point where you want to be."
The career fair was organized by teachers in one of the school's new ninth grade "teams," or groups of students that are taught by a designated set of instructors throughout the year. According to ninth grade social studies teacher Faye Richardson, the teams allow teachers to get to know their students more intimately and guide them throughout high school in their academic and life choices.
Richardson said that coming in, some of the students did not have any idea what they wanted to do in terms of a career or even what they needed in order to graduate from high school.
"Some of them will say that they want to be doctors or lawyers, but they don't know what kind of work goes into that process," she said. "That is what we wanted to show them, so they know they have to work hard, pay attention and graduate from high school. The next step for us is doing a tour at UVI, so the students have a better idea of what the college process is and what life is like on campus."