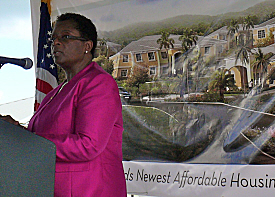 Two decades have passed since the V.I. Housing Authority opened its last affordable housing development, so it was with some pomp and ceremony that more than 100 brand new, energy-efficient apartments with solar hot water heaters, low-flow water faucets and rainwater-collecting cisterns opened Friday at the Louis E. Brown Villas in Frederiksted.
The 102 units opened Friday are the first part of a redevelopment plan that will ultimately create 244 one- to three-bedroom units for families and seniors, all with energy-efficient appliances. It has a clubhouse, fitness center and computer center, laundry center and state-of-the-art security system. There is a community room, a library, an exercise room, as well as a playground, gardens and landscaping composed of native, drought-resistant plants. And it will have a new computer center, funded through the territory's V.I. Next Generation Network federally funded broadband expansion project.
"This housing authority will not rest until it has housing everyone would like to live in," said V.I. Housing Authority Executive Director Clifford Graham at the ceremony. The new villas replace an older public housing community built in 1970 that was severely damaged by Hurricane Hugo in 1989, then again by Hurricane Marilyn in 1995, Graham said.
This project generated roughly $32 million worth of investment to the community, including 120 local construction jobs, according to information from HUD. Thirty-seven percent of all new hires are low- or very-low income neighborhood residents, and 89 percent are minority and women-owned businesses subcontractors. All of the housing will be available to local residents earning 60 percent of the area median income or less, which is $18,660 or less on St. Croix.
Assistant Secretary of Housing and Urban Development Sandra Henriquez came to the territory to join Gov. John deJongh Jr., Lt. Gov. Gregory Francis, Graham and an array of senators, government and corporate officials for the formal ribbon cutting.
"The Louis E. Brown redevelopment is kick-starting the local economy, creating hundreds of construction jobs, and providing a new community that St. Croix families will be able to call home," Henriquez said. "We are proving time and time again that the same time we put people back to work we can build affordable housing."
DeJongh said the opening of the new development marks the rebirth of that community. It is also an important step in the revitalization of the VIHA, "by serving as a model for the kind of public housing developments that properly serve the people of St. Croix and the territory at large," deJongh said.
"This is the type of housing we should have, and the type of housing we want our people to be in," he added.
HUD took control of VIHA's administrative operation in 2003 because it defaulted on its Annual Contributions Contract with HUD, a fact deJongh noted with chagrin, saying the agency had largely turned around.
"No one denies there is still much work to be done, but I think it is clear standing here in Estate Paradise that we have righted the past defects of this important agency, and are on course to upgrade all of the territory's public housing communities to HUD's high standards of safety, quality and affordability," deJongh said.
The redevelopment is being financed with $20 million Low-Income Housing Tax Credits from the V.I. Housing Finance Authority, along with $12 million from HUD through VIHA. The tax credits allow developers, such as the Carlisle Development Group that is working on the Louis E. Brown Villas, to deduct a percentage of the development costs from the company's federal tax obligation.
Louis E. Brown, for whom the villas are named, was a St. Croix native who served in several high-level posts in the V.I. government, including as commissioner of Agriculture and Labor. Born in 1917, Brown served in World War II before returning home and pursuing a career in public service. He died in 1972.