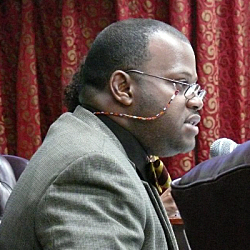 Although it wasn't on the agenda, a move to provide licenses for people who solicit time-share customers consumed most of Friday's meeting of the Senate Committee on Economic Development, Technology, and Agriculture.
The three bills on the agenda were held until subsequent committee meetings.
The bill to provide licenses for time-share solicitors wasn't ready for prime time when the meeting agenda was sent, but Sen. Shawn-Michael Malone, who chaired the meeting at the Earle B. Ottley Legislative Hall on St. Thomas, said he expects it to come up as an amendment to another bill at the Dec. 14 full session.
According to testifiers at the meeting, the need to create "off-property contact licenses" for time-share solicitors is crucial because sales at smaller time-share properties are stagnant. They dropped off after 2008 when all barkers were banned from soliciting on Main Street in Charlotte Amalie. The time-share solicitors were included in that ban.
"They need to be legalized on all three islands," said John Jureidini, manager at Paradise Getaway, a time-share vacation club.
Jureidini said that while larger companies like Marriott and Hilton can rely on mailing lists, smaller companies need to personally solicit potential customers at places like the Charlotte Amalie shopping district. He said that those potential customers get taxi rides to the property, meals and incentives like water sports, which all contribute to the economy.
He also said that if off-property contact licenses were approved, it would stimulate time-share development in the territory. Mike Shelby, who develops time-share units at Magens Point Resort, said that he has the foundations already built for additional units, but stopped construction when the ban on soliciting began.
Several testifiers said that even when hotel occupancy rates drop because of the poor economy or other factors, time-share occupancy rates remain high because the room is already paid for either by the owner of that time-share or through exchanges by people who own time-shares in other areas. Since they're not spending money on the room, they spend instead on restaurant meals and entertainment.
Malone pointed out and others agreed that when the inevitable happens and Cuba opens to tourism, the territory's industry will be further threatened. "That's going to put a really big dent in the revenue," Malone said.
The sale of time-shares will help the industry weather those changes, testifiers indicated.
Senators agreed to hold a bill that would strengthen the territory's film, video and music industry because it needs more work. Tourism Commissioner Beverly Nicholson Doty testified that companies that want to produce in the territory should get a tax incentive package.
Since companies would be eligible for tax exemptions, she suggested a 30-day window for the application to tax certificate process. She also said that Tourism should not be the department that handles the tax certificates.
Additionally, she said the process of granting permission to companies that want to work in the territory needs speeding up.
"We agreed due to the fast-paced nature of the music, film and video production industry, a streamlined review process should be implemented to take advantage of potential opportunities," Doty said.
The other two bills were held because the sponsors could not be present. One would allow for a casino at Long Bay, St. Thomas. The other would allow tax credits to small businesses that provide services or supplies to the local government.
Those who attended all or part of the meeting included Malone, Sens. Louis P. Hill, Neville James, Terrence "Positive" Nelson and Patrick Simeon Sprauve.