Roseway, the vintage schooner that forms the basis of the World Ocean School, is due back in St. Croix Wednesday evening, but it's anything but smooth sailing for the program, which learned just last week that it won't be receiving an expected contract to provide service to public school students.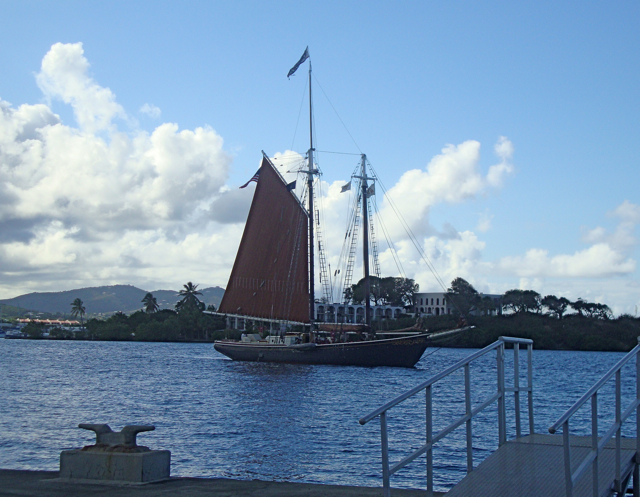 Unfortunately, a big hole in the budget came as a surprise last week to World Ocean School president Abby Kidder, who at the end of the last school year had been given to believe the program would have a $90,000 contract with the Department of Education.
Kidder said she met with department officials last spring before Roseway returned to northern waters for its summer program to discuss the 2011-12 school year.
"We knew we'd have a reduced contract," she said. Many of St. Croix's public schools are not making adequate academic progress, she said, so the World Ocean School would only be available to students at the successful schools.
During the 2010-11 school year, about 700 public schools students had gone through the program. This year the contract would only cover about 300 students from five public schools, she said.
The previous contract had been for about $180,000, she said, and the Department of Education was talking about half of that for the coming year.
During the summer, Kidder was unable to get a final confirmation, but they still went ahead with plans based on those discussions, she said.
Roseway is a 137-foot schooner designed in 1925 to be a Grand Banks fishing schooner, but has become a floating classroom: St. Croix has been her winter home port for the last five years, serving more than 3,000 island students in academically-tied curriculum aboard the ship.
This is the sixth year the ship has returned to St. Croix after a summer of sailing and teaching in the waters off the northeastern U.S. to winter at St. Croix.
"We have a brand new young crew hired and trained, eager to get to work with this year's students, and schools ready and eager to put their students through our programs," Kidder said. "Had we known there would be no contract, we would have sought alternate funding months ago."
With the Department of Education contract gone, the school is looking for angels to help save the program.
"It's a huge disappointment and shock," Kidder said.
Programs each year have been partially funded through federal dollars from the V.I. Department of Education, dollars that could have been allocated for this year's program had they been applied for.
At this point, Kidder added, it's not even certain the five schools will be allowed to take part in the program if alternative funding cannot be found.
"It's such a shame to pull this program from these schools," said Eden Leonard, Director of Education for World Ocean School. "We have all collectively invested a lot in this over the years, but now it's going to take some wonderfully generous angels to step up and make it happen."
Kidder said St Croix has always been an enthusiastic supporter of the ship and the program. With the first class of students scheduled to come aboard after the Thanksgiving break, she hopes some generous donors come forward to help keep the project going.
Kidder and the staff of World Ocean School can be contacted at 340-626-7877, or by e-mail sent to admin@worldoceanschool.org.