Danielle Petersen knows what she's doing with at least part of the prize money she won Saturday at the Animal Care Expo. It's going into the bank to help her pay for veterinary school.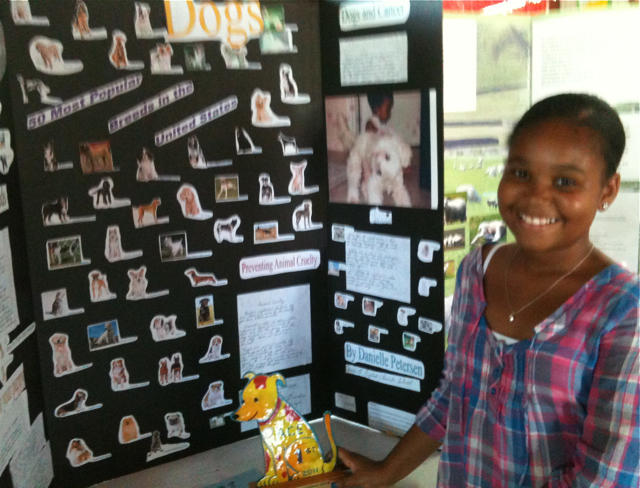 Danielle, an 11-year-old who goes to Freewill Baptist School, was one of the winners at the second annual event, which was sponsored by the Learning Networks Foundation.
Held at the Food Pavillion on the Agriculture Fair Grounds, the event challenged students from kindergarten through eighth grade to show their knowledge about animals and their proper care.
Danielle's project was on dogs, and it featured her family dog, Tasia; Tasia who was a year older than Danielle, died of cancer in March.
"It was a very sad day," Danielle said.
Despite the sorrow and the loss, she now plans to become a veterinarian – specializing in oncology – the study of cancer – so that other dogs won't fall victim to the same illness that took hers, she said.
This year's Animal Care Expo drew 14 projects by 26 students from four different schools.
Danielle won first place in the 6th through 8th category.
Other winners in this category were Zuleike Nieves, Freewill, for her project on sheep, and Emilio Denator, Manor, on iguanas, who both tied for second place, and a tie for third place between Lyon Pane, Manor, on the German Shepherd, and Morgan Coles, Good Hope School, on parasite prevention.
Division 3rd through 5th grade winners included: first place, Wylie Crowther, Sam Cole, Mara Dopp, Mia Nelson, and Erica Chancellor, Good Hope School, on hamsters; second place to Urban Shane Paul, Cooper Crowther, Malik Cole and Dilan Frorup, Good Hope School, on rabbits; and third place to Kara Barton, Leslie Chohesey, and Mason Williams on cats.
Division Kindergarten through 2nd grade: first place to Layla James, Jaylen Frontal, Manor, on cats.
Each first place winner won $100, second place took home $50, and third place $20.
The Learning Networks Foundation is a private, non-profit group sponsoring programs for "at risk" teenagers.