After being accredited for the first time in 2008, Bertha C. Boshulte Middle School administrators are hoping that this week's visit from Middle States Association ambassadors will end in re-accreditation in 2012.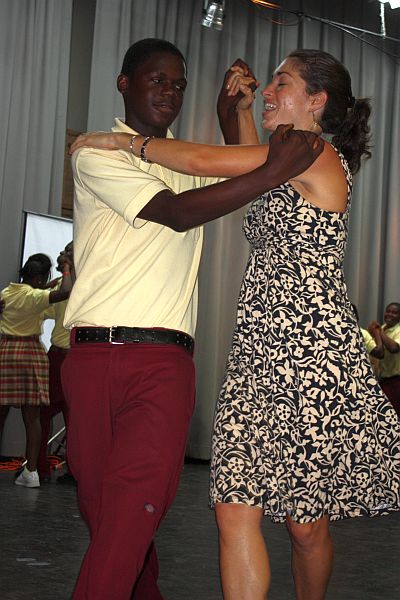 A validation team from Middle States began evaluating the school this week, and will wrap up their visit on Friday with an oral presentation to administrators. The team's recommendation on accreditation will be submitted to the full Middle States Commission on Secondary Schools, which will make the final decision during a meeting early next year.
To prepare for this year's visit, BCB spent approximately a year reviewing its own policies, procedures, facilities, student needs, and academic content, according to a news release from the V.I. Department of Education.
This process is called a "self-study," which ends with the school also presenting the team with an action plan with new goals and objectives. The validation team's responsibility is to determine how well BCB has met Middle States' 12 standards of quality, and to make additional recommendations if more improvements are needed.
"We are here to see that the plan that BCB has formulated, the self-study, is indeed being implemented," said Stanley Katzman, head of the validation team. "We're not here to judge, we're just here to validate what they are doing. If what they are doing is indeed what they say, then we commend them on that. If there are areas are indeed of further refinement, we make recommendations to that effect."
Katzman is responsible for compiling all the data gathered by the team during the visit and submitting it to the Middle States Commission to determine whether re-accreditation should be granted.
"It's a learning process for the school as well as the members of the team," he said. "Most importantly, the school takes about a year to assemble the self-study, and that creation and self-assessment that people go through is a benefit unto itself. The icing on the cake is the validation we provide, so that they know that what they have worked so hard to do has been worth doing."
BCB Principal Carver Farrow said Wednesday that the school has worked on recommendations made by the last team to visit in 2007, and made more of an investment in its physical plant, with the installation of guard railings, sidewalks, and more activities on the field. Improvements have also been made to the library, and new technology, including brand new iPads, have been purchased for various classrooms.
Farrow said that the school has also focused on its curriculum, with afterschool programs targeting incoming 6th graders, graduating 8th graders, and scholars. Students are able to meet the curriculum requirements in core classes such as science, reading, and math, while also having their choice of electives that have been added into the school's schedule.
During the Middle States visit, Farrow and other officials particularly highlighted BCB's music and art departments, including the steel pan classroom, ball room dancing class, and gospel choir.
"The performing arts are the backbone of the school," Farrow said. "We have about 600 students, and about 300 of them are in performing arts classes. That tells us that these classes are just as important as the academic ones are."
BCB art teacher Phebe Schwartz and her advanced art students also spoke about the murals around campus. Schwartz said that she has been teaching her classes about public art, and has also brought in an urban planner to help the students understand how it is incorporated into cities and neighborhoods.
"I love the class," said BCB 8th grader Felicity Philistin. "I like what we are doing and I think later on that I want to take up pottery because I really like creating new things."
Farrow said the students have been bragging about their school to the validation team, which also includes two individuals from St. Croix and two more from Puerto Rico.
"We've been very much impressed with what we've seen and heard," Katzman said about his experience so far. "The children are lovely, the staff is cooperative, Mr. Farrow is a cheerleader for his school and for the community, and it's been a positive experience so far."