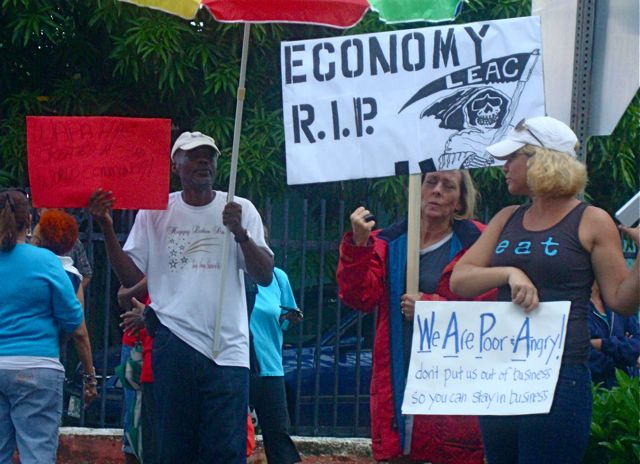 A long-simmering current of frustration bubbled out into the street Wednesday as about 75 Crucians protested high WAPA rates – among other issues – in front of the St. Croix Legislative Building in Frederiksted.
Wednesday's protest was one of three coordinated throughout the territory by the group which calls itself "All Ah We!" Similar gatherings were held on St. Thomas and St. John.
On St. Croix, most of the anger was focused on the high cost of electricity, especially the LEAC charge, the Levelized Energy Adjustment Clause, which according to the Water and Power Authority represents the cost of fuel needed to generate electricity. Most of the anger – but not all.
"I want to see the senators come out of that building and be citizens of the Virgin Islands," said Paul Keith. "I want them to stand here on the corner with us. They'll give us lip service – 'Oh, we're behind you 100 percent,' they'll say – but that's easy for them to say. I want them to get out here and be citizens with us."
Retired government employee Val Tucker took it even farther, saying there should have been hundreds or even thousands on the streets, but that people weren't taking the problem seriously.
"This is too serious to not be out here," she said. "This just shows that we are divided. They care more about their paycheck than they do about being here."
Many of the St. Croix protesters complained about the government not paying its electric bill. Officials say the government doesn't always have the money on hand to pay the bills, and they don't want to raise taxes, but since consumers end up paying higher rates to cover it, it amounts to a secret tax increase.
Community activist George Flores said the government needs to subsidize at least some portion of the LEAC. He did not have details, saying there needs to be hearings to determine what the energy actually costs to produce and what is a fair amount for residents to pay.
The protest gathering started slowly. After a morning cloudburst just after 9 a.m., the 10 a.m. protest started with a handful of people, including one carrying a sign protesting a different issue. But as the next two hours passed, more and more people – some carrying signs, at least one carrying a child – walked up and joined the throng. Passing cars honked and passersby waved and shouted support.
During Wednesday's protest flyers headlined "Occupy WAPA," a play on the Occupy Wall Street protests in New York that have spread across the country, outline plans for another protest next Wednesday at the WAPA office in Richmond.