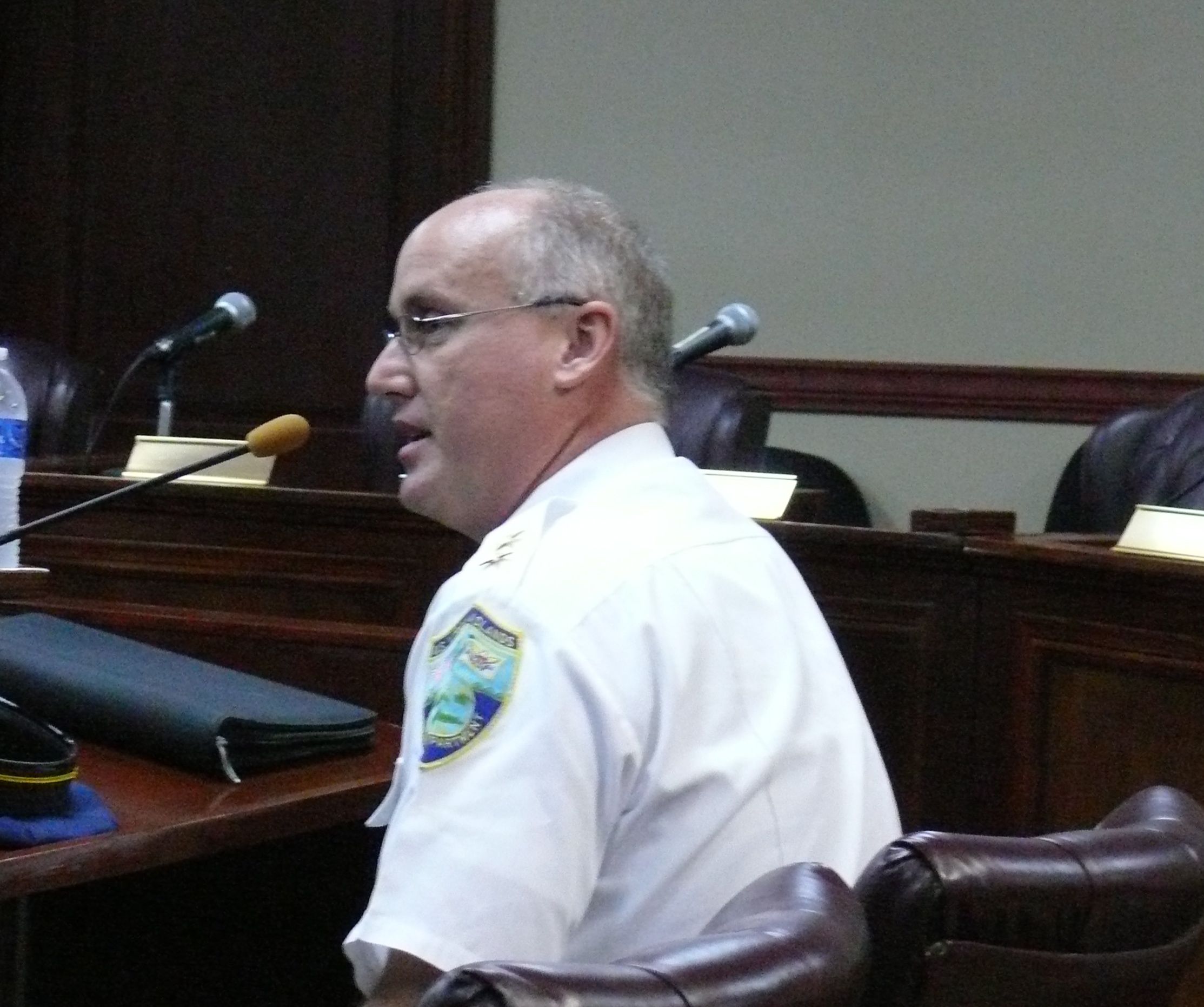 When the V.I. Legislature passed a law last year limiting loud music in bars, the V.I. Police Department purchased 50 new noise meters but cannot use them until the law is clarified, St. Croix Police Chief Chris Howell testified to the Legislature's Government Operations Committee Wednesday.
"These meters require training of our officers and final calibration to meet the requirements of the law," Howell said. "We have made contact with the training and calibration certification entity utilized by the federal government…. We had tentatively scheduled training, only to have to cancel it due to lack of specificity in the law pointed out by the training entity."
Police and Department of Licensing and Consumer Affairs (DLCA) officials have been lobbying for more specificity in the law since it was enacted in March 2010, saying some of the requirements are ambiguous and difficult to enforce. For instance, while a maximum noise level is specified, how and where the volume is to be measured is left undefined, which makes enforcement actions difficult to defend in court.
Howell was there to testify on a bill from Sen. Sammuel Sanes attempting to clarify those rules temporarily, while awaiting a more comprehensive reform of the noise law. Howell said the bill lacks an appeals process, which he believes is a major shortfall of the existing law as well. Howell also said Gov. John deJongh Jr. had just submitted a comprehensive proposal to clarify "areas which lacked specificity and to make it more business friendly, while maintaining the original intent of the law."
DeJongh's proposed bill also provides an administrative hearing process, through DLCA, which will alleviate the need for court proceedings and speed the enforcement process, Howell said.
Sanes, the bill's sponsor, expressed frustration at the timing of the government's proposal, saying he had been requesting specific amendments from DLCA, the VIPD and Government House almost since the law was enacted more than a year ago.
"I received these amendments yesterday, after a year and a couple of months," Sanes said.
In a statement released Tuesday, Government House urged the passage of the administration's proposal, saying revising the noise pollution laws required a careful balancing of competing policies, "namely the promotion of a lively, vibrant and successful nightlife for all three islands as well as maintaining the tranquility and peace of paradise."
DeJongh brought together DLCA and VIPD officials and his personal staff to create the amendments, he said in the statement. "In these amendments, a balance was reached with regard to noise levels, varying the permitted decibels based on time of day and time of week," deJongh said. Almost all of us agree that these are not justifiable interferences with our right to quietly enjoy our residences and public places. We simply must not learn to put up with it. A self-centered insistence on the right to produce noise that is intrusive and damaging to the rights of others must be thwarted," deJongh said.
No votes were taken on any measures Wednesday, due to the lack of a quorum. Heavy rain prevented several St. Thomas senators from making the meeting, according to committee chair Sen. Alicia "Chucky" Hansen.
Present were: Hansen, Sens. Ronald Russell and Terrence "Positive" Nelson. Non-committee member Sanes was also present. Absent were: Sens. Usie Richards, Janette Millin-Young, Celestino White and Alvin Williams.