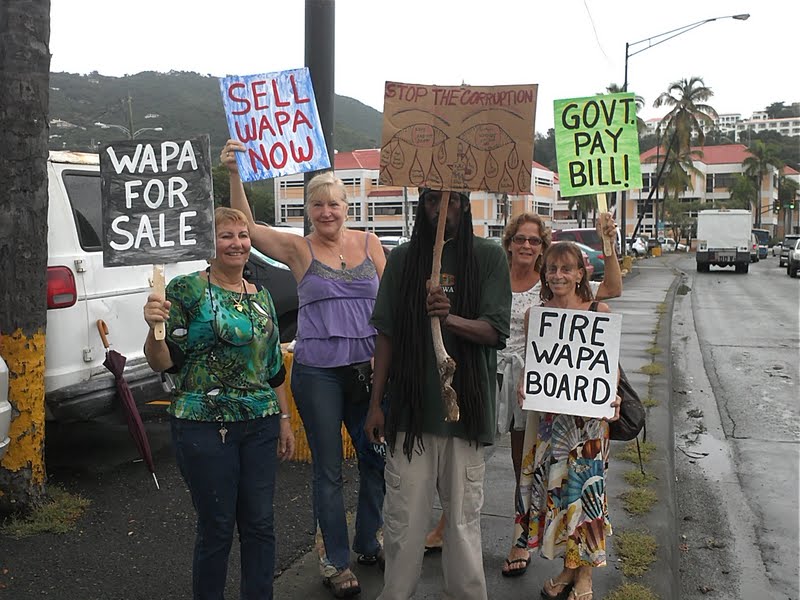 While the numbers were few, the message was loud on St. Thomas, as "Occupy WAPA" protestors campaigned outside the Legislature building Wednesday for lower electricity rates.
After weeks of build-up on social networks Facebook and Twitter, only approximately 60 people came out in the morning. The protest, which spanned all three islands, began on St. Thomas with a mini-march downtown, ending up with the rally at the Senate's grounds.
Protestors carried large signs that asked for the government to pay its outstanding power bill, for the V.I. Water and Power Authority board to be fired and for the utility to be sold.
"Everyone is dying with the LEAC (Levelized Energy Adjustment Clause)," protest organizer Scott White said. "Businesses are shutting down, people can't afford to pay their bills anymore – it has just gone over the tipping point and now it's time to protest."
White said that the electric LEAC, at 35 cents per kilowatt hour, is "six times the cost" of a stateside bill.
"If that was cut in half, just think about what you could be doing with the money," he said. "It could go to stimulate the economy, you could actually afford to go out to dinner once a month, you could afford to pay other bills you've been putting off and businesses could afford to hire new people and replace old, broken equipment. All that can be done with just a small reduction in the WAPA bill."
White and other protestors said that one reason for the high prices is the government's inability to pay its own bills. WAPA officials have often said that outstanding debts from both of the territory's hospitals, along with a massive bill for street lights are what's making up that cost. White said until something changes, residents will continue to protest.
St. Thomas resident Dwayne Callwood came to the protest Wednesday ready to talk about a variety of issues, but said his group had come up with a plan to prevent the government from further missing electricity payments.
"What we're talking about is the creation of a special fund, which would pay for the utility bills of these departments and agencies," Callwood said. "Rather than having them pay at their leisure, the Senate would reduce their budget by what is needed to pay for utilities and put that money into the special fund, which would pay the bill one time for the year. We all know that the government's not paying their bills on time creates a cash flow problem for WAPA."
Callwood put the blame for most of these issues on the Senate and came prepared with a resolution of 10 items that he said could be enacted quickly to bring some relief to the people of the territory. Callwood said if the group did not see any action in the next 30 days, they would be ready to ramp up the effort, expanding the protest to the likes of "Occupy Wall Street" on the mainland where citizens camped out for weeks.
While most that came out for Wednesday's protest focused on WAPA, some wanted to speak about a combination of problems the territory is facing.
"They are numerous and many more to mention," said native Virgin Islander Kayode Lewis. "High food prices, corruption with senators, bad rum deal, air pollution on St. Croix, Act 6905 where the Senate gave themselves pay raises and the LEAC. This is why the people in the Virgin Islands right now are standing up. It's not about the electricity alone, it's about all the problems in the territory."