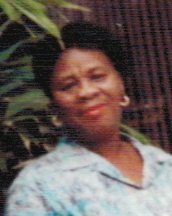 Muriel Nicholas formerly of Old Road, Antigua, and late of Barren Spot, St. Croix, died on Nov. 2 on St. Croix.
Left to mourn are her children: Charlesworth and Hugh Nicholas of St. Croix, and Sherrilyn Stevens of Richmond, Virginia; grandchildren: Hugh Nicholas Jr. of Madison, Indiana, Rahim Nicholas of Carrollton, Georgia, and Chezni Nicholas of Miramar, Florida; sisters: Monica Isaacs of Cassada Gardens, and Merle, Jennifer and Dorsett Nicholas of Old Road, Antigua; brothers: David and Samuel Nicholas of Old Road, Antigua, and the late Alphonso Nicholas; and nieces: Cynthia Nicholas of Staten Island, New York, Shavon, Nikiba, Joseanne and Annrisa Nicholas, Dionne Isaacs and Marecia Richardson all of Antigua.
He is also survived by nephews: Wade Nicholas and Phillip Isaacs Jr. of Antigua; great nieces and nephews: Tevaun Benjamin, Tejonte Richardson, Tamia Anthony, Shane Jones, Cheyenne Ward and Kamiry Prince; uncles: Pastor Joseph Burton of Antigua and Henry of Massachusetts; sisters-in-law: Anthea and Eunalyn Nicholas of Antigua; brother-in-law: Phillip Isaacs Sr. also of Antigua; cousins: Gloria Joseph and family of St. Croix, the Josiahs, the Nicholases, the Mckays, Mary Ann Stevens and family, Lorna Anthony all of Old Road, Tommy Irish and family, the children of the late Miriam Phillip of Urlings, Aurora Hodge and family of Light Foot, all in Antigua.
Other survivors include the children of Henry George in Canada and the U.S.A., the children of Joseph Burton of Antigua, and the late Eva Michael and Mary Henry of Antigua; friends: Rev. Dr. Conrad Spencer and his family, the Faith and Friedensthal Moravian Church families on St. Croix, Ina Isaacs and family, Sitnah Yarwood and family on St. Croix, Gloria Batchelor and family, Glendina Mckay and family in Antigua; as well as other relatives and friends too numerous to mention.
There will be a viewing held at 9 a.m. followed by a funeral service at 10 a.m. on Friday, Nov. 18, at Faith Moravian Church, 302 Barren Spot. Interment will follow at Kingshill Cemetery.
All arrangements are by James Memorial Funeral Home Inc.