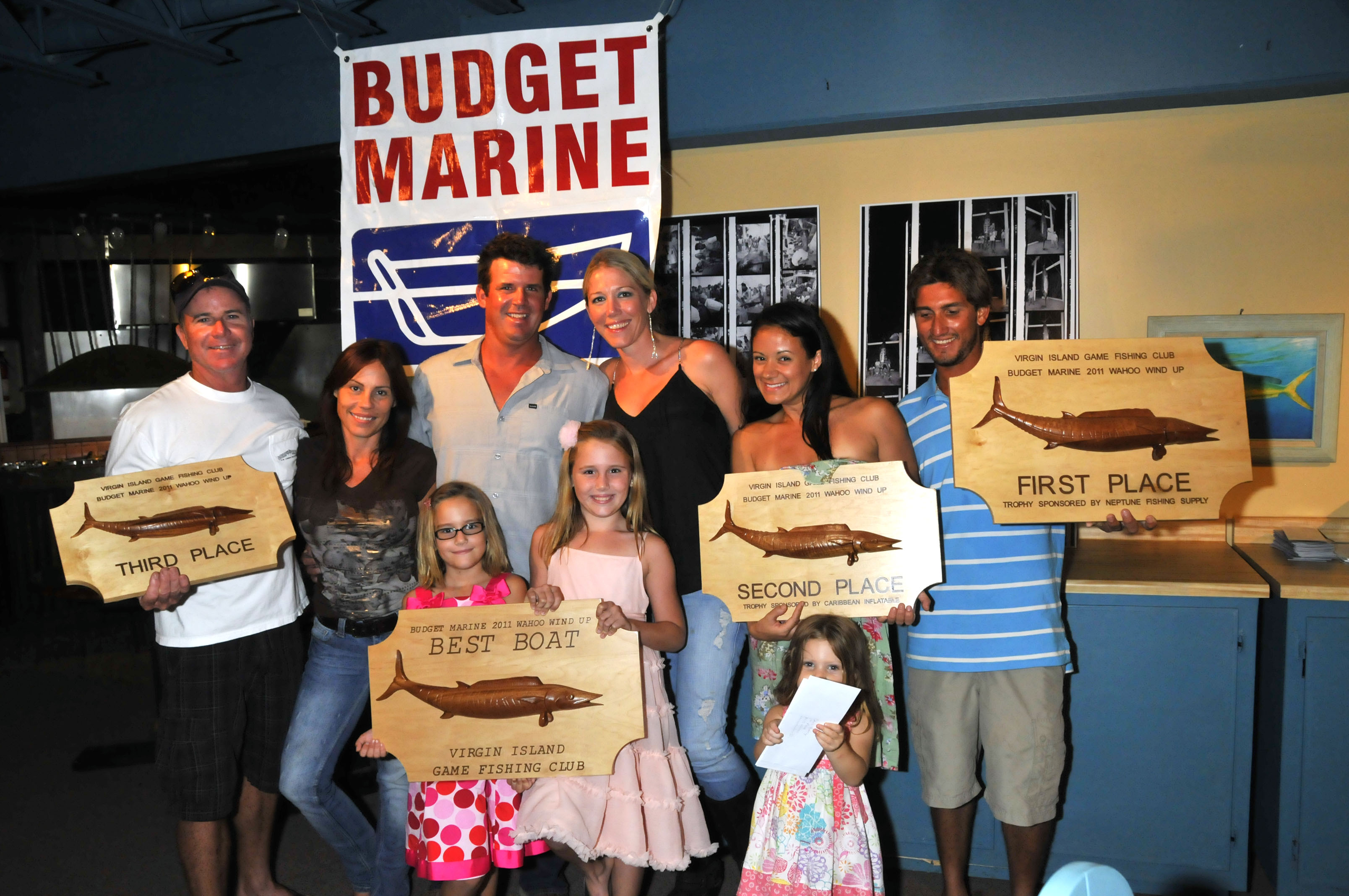 Husband and wife reeled in the two largest wahoo at the Virgin Islands' Game Fishing Club's (VIGFC) annual Wahoo Wind-Up, sponsored by Budget Marine and held Sunday Nov. 6. Chris Berry caught a 34.3-pound wahoo aboard the 36-foot Calypso, Double Header IV, to earn Top Angler, while his wife, Angela, reeled in a 33.0-pound wahoo to win the Second Largest Wahoo and Top Female Angler prizes.
"We caught all of our fish before noon, then nothing," said Chris Berry.
Calm seas and sunny skies made for great fishing weather, something that Angela Berry especially enjoyed. "This was my third fishing tournament," she said. "I loved it! It was especially fun to catch a big wahoo."
Double Header IV
owner and captain Jonathan Gatcliffe reeled in the third largest wahoo, a 31.6-pounder.
A total of eight wahoo collectively weighing 198.9-pounds also earned Double Header IV the Top Boat prize for the third year in a row.
"We were three couples going out for a fun day of fishing," said Gatcliffe. "But, of course, we had our strategy, too. We headed over to the C-FAD north of Christiansen to get a bunch of small fish to give us numbers, and then north trolling across the South Drop to go get the big ones."
Cash prizes were awarded to the anglers who caught the 10 largest wahoo.
Marc Mosca aboard Double Header IV caught the 4th largest, a 29.9-pounder; Ernest Quetel fishing from Rambo caught the 5th largest, a 27.7-pounder; the 6th largest or 26.62-pounder was reeled in by Al Spouthworth on Islander; 7th largest, a 25.2-pounder, was caught by Derek Quetel on Rambo; Jane Townsend on Double Header IV caught the 8th largest weighing 24.7-pounds, the 9th largest weighed 24.5-pounds caught by Chris Berry on Double Header IV, and Kevin Haddox on Mixed Bag rounded out the top 10 with a 24.2-pounder.
A fleet of 12 boats with 46 anglers caught a total of 18 wahoo collectively weighing 384.3-pounds. Personal from the Department of Planning and Natural Resources Fish & Wildlife Department, headed by director Roy Pemberton Jr., conducted the official weigh-in.
"We had a great tournament and we invited everyone to come out and fish with us in future tournaments," said tournament director Paul Meyer.
The Virgin Islands' Game Fishing Club's Wahoo Wind-Up was sponsored by Budget Marine. For more information about the VIGFC, visit: www.vigfc.com