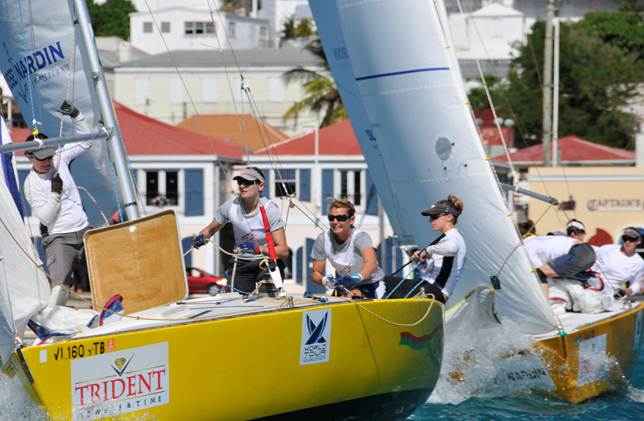 Watch match-racing at its best in scenic Charlotte Amalie harbor when over a dozen of the world's best men and women's skippers will duel in Inter-Club (IC)-24s in the 4
th
annual Carlos Aguilar Match Race (CAMR), presented by Ulysse Nardin/Trident Jewels and Time, Dec. 1 to 4. There will be waterfront viewing plus a live webcast of this International Sailing Federation (ISAF) Grade Two Official World Tour Qualifier (WTQ) for the 2012 World Match Racing Tour (WMRT).
"As women's match racing has become more competitive and crew weights between women and men are close to the same, we're seeing more women and men go head-to-head in the match racing world," said principal race officer Bill Canfield. "This year, we'll follow this trend by making the Carlos Aguilar Match Race an Open event where women and men will sail together in mixed teams as well as against one another."
The USA's Sally Barkow, Women's Match Race World Champion in 2004 and 2005 and currently the 3rd ranked woman match racer in the world, will be one of the skippers who will return this year to compete. "I think it is great to be a part of CAMR as an open event," said Barkow. "We really look forward to good, tough competition for the whole event!"
In addition to Barkow, the USA's 38th world-ranked Stephanie Roble will also sail.
"The new open format for the CAMR is going to be a fun addition to the regatta. The format will bring new competition to our plate as well as a different strategy for sailing the event. We are excited to sail against and learn from our competitors and hopefully prove ourselves in this awesome group of sailors," said Roble. "I think competitors and spectators are going to have a great time experiencing unexpected wins and losses that I believe will result from the new format."
Other women skippers include the USA's three-time Rolex Women's Match Race champion Sandy Hayes; skipper of Team New Orleans Louise Bienvenu; and USVI teenager Nikole Barnes, who is new to match racing but a bronze medal winner in I420s with crew Agustina Barbuto at the 2011 ISAF Youth World Championships.
Men skippering include Finland's 11th world-ranked Staffan Lindberg; the USVI's 30th world-ranked Taylor Canfield, who finished 2nd at the 2009 CAMR and most recently finished 2nd at the U.S. Match Racing Championship; the U.S.A.'s 36th world-ranked Dave Perry, four time winner of the U.S. Match Racing Championship; Greece's 38th world-ranked Stratis Andreadis, who represented his country in the 2011 Nation's Cup; El Salvador's Mauricio Gallardo; the British Virgin Islands' Colin Rathbun; Puerto Rico's Jorge Santiago, and USVI teenager Tyler Rice, who finished second this fall skippering for Brown University in the Inter-Collegiate Sailing Association Pine Trophy Match Race.
The race format will be a double round robin where the top three teams move forward. The remaining teams enter a repechage event where the top two teams advance. This offers everybody two tries to make it into the finals.
The winning skipper will receive an invitation to the Stena Match Cup Sweden, in Marstrand, in the summer of 2012, as well as an Ulysse Nardin precision timepiece.
The St. Thomas Yacht Club (STYC) and the Virgin Islands Sailing Association (VISA) are organizing authorities for the CAMR, namesake for the late Carlos Aguilar, who was an avid sailor and match racer.
Match racing pits one identical boat against another on a short courseoftentimes near to shore. On-the-water umpires make instant calls and enforce the rules. The result is very exciting racing up and down the Charlotte Amalie waterfront where spectators can enjoy tented bleacher seating. The CAMR will feature live commentary on the waterfront and a live webcast on
www.carlosmatchrace.com
where a global audience is expected to follow this nautical chess match. Racing starts at 9 a.m. (GMT – 4 hrs) daily.
Supporting sponsors of the CAMR are the U.S. Virgin Islands Department of Tourism, Heineken Beer, distributed in the U.S. Virgin Islands by Bellows International Ltd., Budget Marine, Hooters, Choice Communications, Bolongo Bay Beach Resort, Yacht Haven Grande and St. Thomas Yacht Club.