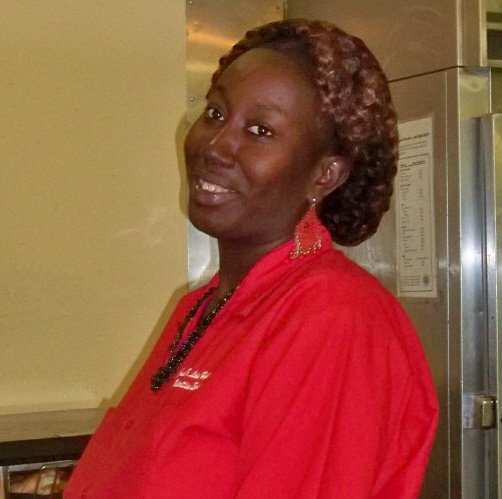 Why not eat at Tropical Treats Cafe and support Gov. Juan F. Luis Hospital at the same time? The cafe isn't just for outpatients, visitors and employees; people who work and live in the area around the hospital have been known to frequent the cafe.
The breakfasts and lunches prepared by Taste of St. Croix award-winning chefs are nutritious and very affordable. They serve Caribbean and Continental meals cafeteria style and have indoor dining for 100 and patio dining for 30, and takeout is also available.
The pastry chef prepares fresh baked cookies, cakes and breads. There is a self-serve salad bar with fresh local fruits and vegetables. Burgers start at $2.19 and grilled cheese is only $1.79.
Dunn Wiltshire, the lead cook, prepares nutritious fish and chicken entrees served with all sorts of choices of side dishes, starting at $5.
Chuck Faris, director of Nutrition Services, worked at JFL in the early 1990s and returned in August to oversee around 40 nutrition staff members.
Faris said the staff generally serves up to 300 walk-ins in the cafeteria. And professional team members prepare and serve balanced healthy meals to around 70 patients daily.
There are three clinical dietitians registered with the American Dietetic Association. The hospital also has on staff a specialist in renal nutrition, certified by the Commission on Dietetic Registration. The dietary department provides nutrition education to patients and the community.
Faris says the main concern of the staff in nutrition services is providing the best possible service to patients. "We are here to listen to and take into consideration all suggestions, comments and concerns from patients and their families," Faris added.
Pamela Toussaint-Sanes, communications and community coordinator, encourages residents to try out the nutrition team at JFL for their next catered event.
Lorna Clark-Viotty, food production manager, and staff will come up with a menu or work around special menu plans for the customer. They recently prepared a typical Crucian breakfast for 500 walkers at the annual Family Affair. Catering jobs will generate revenue for the hospital which is struggling financially.
Faris said during the week of Thanksgiving they will be serving Crucian and traditional turkey dinners with all the trimmings for a special staff luncheon. He added it will be a good time for the public to come out and try the delicious food served at the hospital. "It is nothing like what one considers institutional food," he said.
The cafe is open for breakfast from 7 to 10 a.m. and lunch is served from 11:30 a.m. to 2 p.m. Saturday and Sunday they serve a "grab and go brunch" from 9:30 a.m. to 1:30 p.m. To find out what is on the daily menu call the menu hot line at 778-6311 extension 2999 and call extension 2525 for catering information.