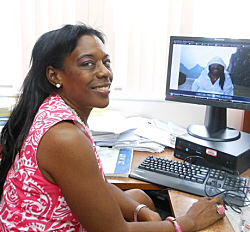 Celia Victor was recently named territorial liaison for the Bennie and Martha Benjamin Foundation, a post she anticipates with pleasure. It's just more of the health care landscape to explore in a career that has already taken her down many paths.
Victor will work with grant recipients, administrative partners, government officials, hospitals, clinics and the University of the Virgin Islands providing insight into the territory's health needs, while developing new initiatives to improve access and delivery of health care services.
It's a big order, but Victor, director of Clinical Compliance for the Department of Human Services, see this as another opportunity to utilize her expertise. "It's something I can do," she says. Benjamin, a noted musician and songwriter born on St. Croix, formed the foundation to improve health care in the Virgin Islands.
A recent chat in her office revealed Victor is still energized from her recent experience as leader of the medical team for Project Homeless Connect on all three islands.
"We all pulled together," Victor says. "No matter what, we support each other. The project directs patients to the care and information they so need."
Victor is a vivacious woman – tall, attractive, confident. Her personal dynamism is much in evidence as she traces her career.
Victor graduated from Temple University in Philadelphia in 1994 with a bachelor's degree in psychology, earning a doctor of pharmacy, Pharm.D, from Temple University in 2002.
Her postdoctoral experience included stints as a counselor and psychotherapist at Good Samaritan Hospital and Northwestern Methadone Recovery Clinic in Philadelphia and at Johns Hopkins University Hospital (Baltimore, Md). She was the first clinical drug specialist hired by the Division of Mental Health, Alcoholism and Substance Abuse under the U.S. Department of Health and Human Services.
Victor is a registered addiction specialiast (RAS) though the Breining Institute and has pursued two clinical clerkships at Hershey (Penn.) Medical Center (for discharge counseling) and at the North Carolina Pharmacy Recovery Network for completing drug assessments.
Upon returning to St. Thomas in 2003, Victor took over as director of mental health at the V.I. Health Department, overseeing a staff of 60 comprising nurses, clinicians and fiscal officers, a position she left after about a year. Victor eventually decided to return to the States, but a funny thing happened on the way to the airport.
"That same day, I ran into Sedonie Halbert, then Human Services commissioner," Victor says. "She said, 'You can't leave. Come to work for us as compliance officer'."
That was six years ago. Halbert's intuition was spot on.
"It's been wonderful," Victor says. "I felt I'd come into a family. And it was a massive challenge."
As director, Victor is responsible for executing all departmental health care and disease state management initiatives, developing tools to improve medication and clinical protocols, coordinating with senior citizen and children, youth and family programs, monitoring medication management and safety for all departmental programs.
Clearly, it's a challenge Victor embraces. She quickly gets to what is most important to her – seeing that Virgin Islanders, especially young children and seniors, are educated about and receive the proper health care, including medications.
Victor is passionate about this. "We conduct workshops, for instance, in diabetes care, the myths and the treatment. Your genetics are who you are," she emphasizes. "I tell older people to know their family history, to teach their grandchildren. The disease can be managed with diet and medication, but the medication must be monitored."
In 2006, Victor was invited to serve as an ambassador on a two-week trip to the Republic of China, as a member of the People to People delegation of professionals specializing in psychopharmacology and neuropsychiatry.
The People to People ambassador program was first introduced in 1956 to promote international understanding and friendship through educational, cultural and humanitarian activities. The programs coordinate professional delegations under the auspices of People to People International.
Before setting out on the journey she calls "life-changing," Victor says she had looked forward to the chance to see firsthand some of the advances in psychiatry and pharmacologic treatment in other parts of the world.
After her journey, Victor says, "My paradigms shifted, broadened."
Illustrating her remarks with a video of the experience, she says, "China looks at the patient as a whole person. They incorporate yoga, tai chi. We tend to treat symptoms, we address root causes with too many drugs. In China, they practice integrative medical care – body, mind and soul — along with conventional medical practices. The doctors I traveled with represent the best minds worldwide.
"You look at schools the first thing in the morning," she says. "You will see hundreds of children and adults, practicing tai chi. I hold those images with me still – their mantra, their love of their culture: 'One World, One Dream.'"
Serving as psychiatric group facilitator for the Family Resource Center since 2005,
Victor says, "I teach a 'Rites of Passage' workshop on Saturdays. It's a cultural literacy program for middle school students, and they learn tai chi along with local history – they love it."
Reflecting on her career, Victor stresses the importance of people who influenced her, rattling off a litany of names. She has a remarkable memory.
Victor recalls attending Sst. Peter and Paul School and working part-time at what was then St. Thomas Hospital under Lillia King in the histopathology lab, and psychiatrist Dr. Leighman Lu. "It was the power of the mind that first attracted me to the field," Victor says.
As the interview winds down, she plays a CD of sweet and clear childrens' voices.
"That's 'The Sound of the Lotus' from 'The Legend of Kung Fu,'" she says. "I play that every morning before I begin my day."