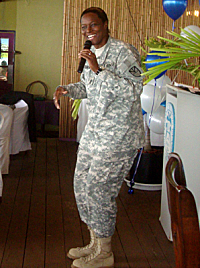 Confidence is one factor that goes into making a great leader, and Mona Barnes certainly isn't lacking in that quality.
Barnes is state command sergeant major in the Virgin Islands National Guard, the first woman in the territory to hold the post and one of only three women to hold that rank throughout the United States and its territories.
Friday morning she passed on her keys to great leadership to a group of University of the Virgin Islands students at the Hibiscus Beach Resort Hotel. Barnes was the keynote speaker at the UVI Student Leadership Development program, sponsored by the school's Student Affairs Division.
Barnes told the young man tasked with introducing her not to dwell on her bio and the details of her past.
"I don't want you to look at my past," she told the young audience. "I want to think about my potential for the future."
Barns radiated confidence, not just her words, but her bearing, her tone, everything.
"I believe that I'm a great leader, I don't need anyone else to validate me," she said. "That's why I'm successful."
One key separating a leader from a great leader is having a goal, she said. Lots of people can lead, but where are they leading people to? You have to have a purpose that you are committed to, she said.
Barnes asked some of the young audience where they saw themselves in five years. One snapped out an answer – "A career in service." Another student paused and said "Um." The first student has a greater likelihood of succeeding, Barnes said, because she knows what she wants.
"You can become whatever you re purposed to do. She knows her purpose – to serve. She is on her way to becoming a great leader."
Experience is important as well, she said.
"To be a great leader you must first be an outstanding follower … "It' easy for me to tell you what to do, but if you haven't done it, you don't know what it takes."
In her own case, Barnes said she knows what she wants her life to be like in 10 years and is planning and preparing to achieve it.
She peppered her talk with personal example – and not all of them were pretty stories. But they illustrated her points, she said, and she is not ashamed of her past, she tells it all. It's all part of what made her what she is today, she said.
Besides her leadership role in the Guard, Barnes is also a pastor and an entrepreneur, owner of a business that monitors underground fuel tanks.
The theme of this year's Leadership and Development Training Program as "Leading with Purpose Charting a Path to Student Success." Those taking part were invited because they hold leadership positions on campus or have shown leadership potential, according to Hedda Finch-Simpson, UVI's student activities supervisor.
Other topics covered in sessions Friday included networking, money management, social grace and parliamentary procedure. Saturday morning they will cover conflict resolution and health and wellness. Then they will head out for community service.