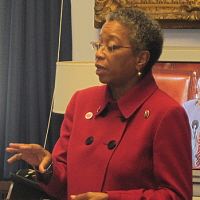 Delegate Donna Christensen got a taste of how hard it is to get by on food stamps this week, eating only what she could purchase with the $31.50 food stamp benefit per week as part of the Food Stamp Challenge.
The Food Stamp Challenge is a nationwide event intended to preserve funding for vital nutrition benefits during a time of record poverty and high unemployment. An organization called Fighting Poverty with Faith challenges everyone to live for one week on the food budget of someone surviving on Supplemental Nutrition Assistance Program (SNAP) benefits, or what are commonly called food stamps.
Christensen finished the week with 37 cents left, according to a statement from her office.
"As much as I looked forward to the week being over, I am proud that I was able to complete it and a lot of thanks go out to those who doubted I could," said Christensen. "It certainly gave me a better sense of what more than 23,000 of my constituents in the Virgin Islands and over 48 million Americans go through and to have that understanding was worth it."
Completing the challenge took planning and extra time shopping for the best prices, Christensen said. The goal was to call attention to poverty and speak out against cuts to SNAP and other safety net programs that feed the poor and the nation's children during the height of an economic crisis.
"Even though I have always fought against cuts, I see now that we need more funding to ensure that our families, especially our children, are not going hungry," Christensen said. "I also see a need to counsel those who need it on how to use their allotment more efficiently and nutritiously. It is hard to do that on such a limited budget."
Christensen expressed her gratitude to Fighting Poverty with Faith and said she recognizes that this is just a dramatization of what it means to be poor in the richest country in the world. "The hard work only begins now," she said.