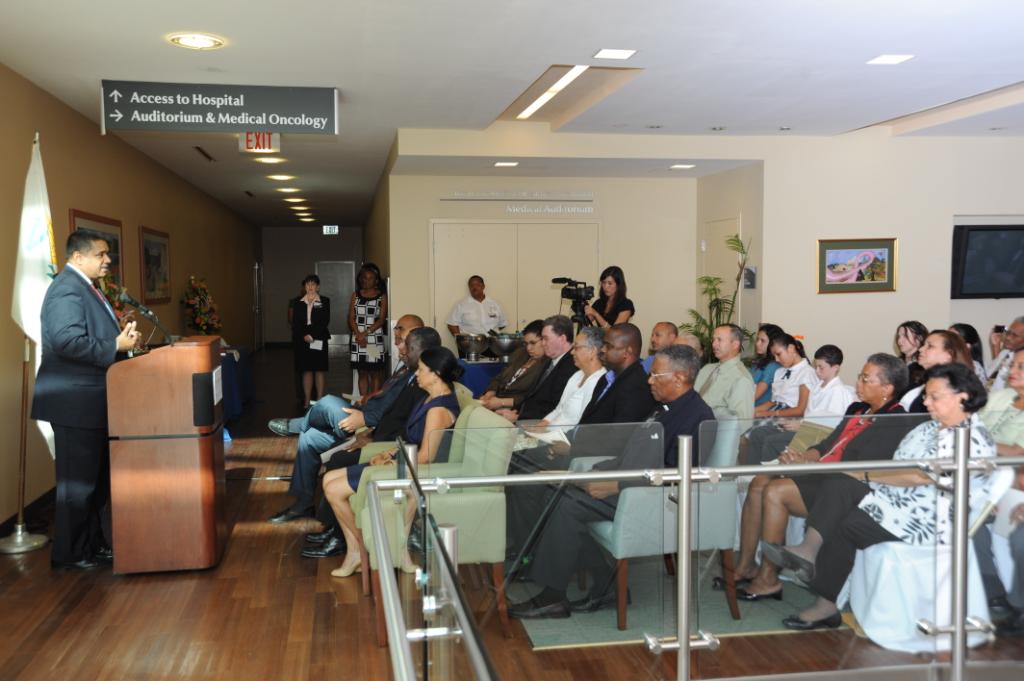 Gov. John P. deJongh Jr. joined officials of the Charlotte Kimelman Cancer Institute and widow Monique-Sibilly Hodge in dedicating an infusion suite at the cancer center in honor of former Lt. Governor Derek M. Hodge, according to a Government House release issued Monday.
"It is a wonderful feeling to once again gather with so many people who admired and loved Derek Hodge. We lost a great Virgin Islander last June—a man whose charm, intelligence and integrity are sorely missed across these islands. While he is no longer here to offer us counsel … his legacy is firmly embedded in the political and social life of this territory," deJongh said Monday.
"Derek battled cancer in the way that all who knew him well would have expected: quietly, courageously and humbly…. He entertained guests even while receiving debilitating treatments; only in his final weeks could he no longer find the strength to meet his dear friends at all his favorite haunts across the islands and spend time with them cheerfully, as always, pretending like nothing was wrong," the governor added.
DeJongh spoke of the immense pride Derek Hodge had in the Virgin Islands and how he hated the idea of having to concede that something might be better elsewhere. "Throughout his illness, he was proud to have a world-class facility like the Charlotte Kimelman Cancer Institute available here on St. Thomas to assist his treatment. The ability to spend most of his time at home and still know he wasn't sacrificing the quality of medical treatment he received, meant so much to him, and still means equally as much to hundreds more of our citizens."
The governor said it is fitting that Derek Hodge is honored here, in this way, at this institution. As a Democratic Party leader, senator and lieutenant governor, his work led to dramatic improvements in the health care system so many Virgin Islanders depend on. "Throughout his political career, he understood that the territory's government had a responsibility to foster the kinds of facilities and institutions that would provide quality care to all who live on these islands."
Monday's ceremony an opportunity to rejoice in honoring a man we all loved and admired. "At Derek's memorial service, I said that like so many great men, he was full of contradictions: a man of quiet integrity who rose to a great level of public prominence; a man of discerning tastes who most enjoyed the simple things in life, a peacemaker who also could be a fierce advocate. He was a Virgin Islands original, and there will never be another like him."
The governor noted that Derek Hodge left an indelible mark on our islands, and on all our lives. "Now his memory will always be enshrined in a building that stands as a fitting testament to what he believed in, and the important work he accomplished in his illustrious career. I want to thank Concessions International for donating this plaque and naming this room in his honor. I also want to thank the Kimelman physicians and staff who treated Derek and are here today with us."