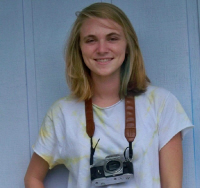 Leah Bernhardt is only 17, but she is anticipating 77, documenting her life with photos so she can reminisce in her old age about her youth, friends and family.
She says she found some photo albums of her mother's from the 1980s and 1990s that piqued her interest in photography. She already had her own private show and sale at MacheteMACHETE gallery in Christiansted.
"Photography is perfect for me though because I don't have to draw anything," Bernhardt says. "I am very critical of my work."
Thomas Shelley, director and owner of MacheteMACHETE, says Leah can get a great photo from a broken film camera. Then she'll experiment with that film lens on a digital camera. She's fascinated with each step in the photographic process. He adds that the intimacy and mood that she captures is similar to Ryan McGinley and some of her techniques evoke Robert Frank's later works.
Bernhardt is having an opening on Art Walk Thursday, Dec. 15. Shelley says they generally have big turn outs for those shows. "The main thing is having my name out there," Bernhardt said.
"The artists are hand-picked," Shelley says. "And I am very ,very picky." She is also an intern at the Gallery.
Bernhardt, who has a blue streak in her blond hair and talks a blue streak, has had her photography published a few times in underground magazines like "Oh Comely" in the United Kingdom and "Racing Minds Magazine."
She has recently branched out into sketching her pictures to expand her portfolio while taking art at Country Day School where she is a junior.
She is using a 1980s manual, interchangeable lens, Nikon FG 35 mm film, single lens reflex (SLR) camera like her mother Peggy Bernhardt used. She gets rolls of 24 shots of Fuji or Kodak film in bulk and has it developed at Hughes Photo Shop the old fashioned way. She says she scans the photos and using a free software program makes minor adjustments.
She likes a cosmopolitan lifestyle and wants to attend college in a big city so she is going to apply to art schools like Pratt Institute and Cooper Union School of Art in New York City, and Otis College of Art and Design in Los Angeles, Calif.
She has ideas about possible photo careers – a magazine or blog or anything that brings new talented and young artists to the spotlight. She says, " If I don't make it as a photographer, I'd like to help others prosper as photographers," She says.
Freelancing, working for different companies here and there or having a full time job at one company, like a clothing company are other career ideas she toys with. She also thinks working for a band would be pretty cool, getting to travel with them on tour. "I don't want to do wedding photography," Bernhardt
says.
Bernhardt is also an equestrian and has been involved with the St. Croix Pony Club since she was 8 years old. She rides English on her thoroughbred named Tigger. She spends summers with her father, Jared Bernhardt, in Virginia Beach, Va. She added she loves spending her summers in the States with her stepfamily and enjoys her summer job selling candy at Forbes' Candies store.
"I can be really nostalgic at times, but I will be able to take a look back at my life because of my photography," Bernhardt says.
Bernhardt's works may be viewed beginning Dec. 15 from 5 to 8 p.m. at MacheteMACHETE gallery at 5 Company Street in the courtyard behind ReMAX.