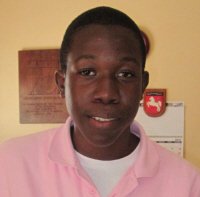 Akiyl Francis, 15, is a St. John youngster with an eye on the future.
"I want to be a football player or a mechanic," he said.
According to his mother, Mary Fessale, he's well on his way to success in the mechanical field. She said on the second day of school, she went to drive him to the ferry in Cruz Bay for the commute across Pillsbury Sound to Eudora Kean High School. The battery was dead, and Francis quickly put his hands on some tools and a spare battery to solve the problem.
While playing professional football is a dream, he said he isn't on Kean's team this year because he doesn't want to break any more bones. He's already broken a finger playing sports and a foot when he dropped a box on it.
Francis took a step this summer toward a successful future by participating in the St. John Community Foundation's four-week Life Skills and Career Development program funded by the V.I. Labor Department.
"When he was talking about values, what was important to him was his family," Community Foundation Director Celia Kalousek said, adding that this impressed her.
His mother added that he was helpful around the house. "And he's a very obedient child," she said.
Francis said while attending the Life Skills and Career Development program he learned about different colleges, what he had to do to get into college and how to greet people. And he learned about handling money.
His favorite math classes at Kean also help with that task, he said.
"You use math in everyday life," he said.
While he's still a bit young to map out college plans, he said ITT Technical Institute is where he'll likely head.
In September, he started 10th grade at Kean. While some St. John students claim they aren't treated well by the students who call St. Thomas home, he said that isn't the case for him.
"Once you get to know each other, it's alright," he said.
When classes are over, he's back on the ferry to enjoy the company of his St. John friends. Many of those are the same students he grew up with while attending St. John Christian Academy and Julius E. Sprauve School.
On St. John, he participates in youth activities at Prayer House of Faith and cooks up dishes like macaroni and cheese, mashed potatoes, chicken, and rice.
"I'm hungry a lot," he said.
Francis enjoys afternoons at the beach – Cinnamon Bay is a favorite – and spending time with his family. He lives with his mother and brother Shawn. He also has two other brothers and a sister on St. John and four brothers and a sister on St. Thomas.
And he's a big fan of video games.
"Action, fighting and military games," he said.
As for the most exciting event in his life, Francis said it was a trip to Atlanta where he visited the Atlanta Aquarium. He said it was "cool" to see the fish up close. He also found another attraction on his Atlanta visit.
"Golden Corral," he said, referring to a popular chain of buffet restaurants.