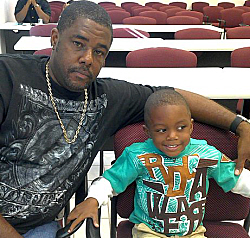 Fathers and sons got an opportunity to spend some quality time together Friday morning at a fun day put on by the Department of Human Services' Head Start Program.
The annual Father and Child Activity Day, at Human Services' Head Start Sugar Estate Complex, targets local fathers and male role models and encourages them to play an active role in their children's life, said Head Start's Parent Involvement Coordinator Deshawn Williams. This is the fourth year the event has been put on, and Williams said each year is better than the next.
"We are hoping to get 70 or more fathers out here, since we service over 400 families," she said.
The event featured a range of activities for dads and their children, including a photo shoot, woodworking from Home Depot and gardening. Speakers from WTJX Channel 12 also gave a presentation about exercising and eating right.
"I think events like this make fathers and parents in general better aware of what to do when they are raising a child," said Ralph Lancos, who came with his son, Nikai, to the event. "I have been coming here to learn about different aspects of child development and what I can do to help my son further his education, and based on some of the seminars I've been to, it's definitely a very informative program."