At Dockside Bookshop we are constantly striving to meet our customer's needs. Take a look around the store and you'll notice that we rearranged a few sections to add the Teacher's Corner. This new section features many educational items like charts, maps, games, CDs and DVDs to help our students learn, grow and develop.
Dockside Bookshop – Your Caribbean Bookstore
Our new hours are Monday – Friday, 8am to 6pm
Saturday, 9am – 5pm
Sunday, 11am – 3pm
Dockside Book List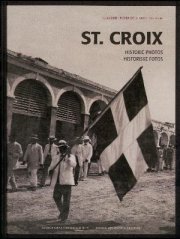 V.I. History
"St. Croix Historic Photos"
Elizabeth Rezende and Ann Walbom
$55.00
St. Croix – Historic Photos takes us back in time to the 1860s – 1917, a period when St. Croix was part of The Danish West Indies. The three islands were sold in 1917. The text and the photos tell the story of the inhabitants' lives on the brink of agricultural, social and economic change. The photos give a hint of the labor tensions of 1878 and 1916, underscoring the need to replace the old plantation culture with a more modern agricultural production. Many subjects are covered, from the sharp realism in the sugar fields to the leisurely free time of the planter family. The book, written both in English and Danish, documents in an exciting and relevant way a forgotten part of the Danish history.
West Indian History
"Britains Slave Empire"
James Walvin
$23.95
The British Empire carried more Africans into bondage in the Americas than any other nation in the world. Not only did the British slavers of the 17th and 18th centuries do the most to hone the art of slave trading, but the nation as a whole also benefited financially more than any of its competitors. The story of how Britain grew and prospered on the backs of millions of slaves is retold here in vivid detail. Renowned slavery historian James Walvin explains how the international commodity market operated, how the process of transporting millions of Africans thousands of miles across ocean and land developed, and how the experience affected slaves both in bondage and later in freedom. This is an innovative and eye-opening account of the critical relationship between slavery and the development of Britain's cultural and economic life.
West Indian History
"Pirate Hunter of the Caribbean"
David Cordingly
$26.00
From David Cordingly, one of the world's foremost experts on pirate history, and author of the perennial favorite
Under the Black Flag
, comes the thrilling story of the man who fought the real pirates of the Caribbean. Sea captain, privateer, and colonial governor, Woodes Rogers was one of the early eighteenth century's boldest and most colorful characters.
Pirate Hunter of the Caribbean
is the definitive account of his incredible life.
At a time when Europe's maritime nations fought over islands and territories, and pirates and other scoundrels were flourishing, Rogers sailed into the center of the action. In 1708, in the midst of Britain's war with Spain, Rogers was hired to lead a mission against Spanish targets in the Pacific. A fearless adventurer who lost his fortune as often as his temper, he battled scurvy and hurricanes and mutinies—and along the way captured a treasure galleon and rescued the shipwrecked Alexander Selkirk, whose four-year ordeal on a remote Pacific island inspired Daniel Defoe to write
Robinson Crusoe
.
When the Treaty of Utrecht in 1713 led to an explosion of piracy in the Caribbean, King George I appointed Rogers governor of the Bahamas. There he found himself in charge of a string of islands being plundered by raucous felons, from the notorious "Blackbeard," who kept lit matches under his hat to give himself a hellish cast, to Charles Vane, a particularly brutal pirate captain, to Anne Bonny and Mary Read, rare female pirates who escaped the hangman's noose only by revealing their pregnancies.
With rich and vivid details and plenty of action, David Cordingly chronicles a rollicking adventure that is as fascinating and gripping as any seafaring legend.
Nonfiction
"Killing Lincoln"
Bill O'Reilly
$28.00
"Killing Lincoln is a must read historical thriller. Bill O'Reilly recounts the dramatic events of the spring of 1865 with such exhilarating immediacy that you will feel like you are walking the streets of Washington, DC, on the night that John Wilkes Booth shot Abraham Lincoln. This is a hugely entertaining, heart-stopping read."—Vince Flynn, author of American Assassin
Nonfiction
"This is Herman Cain"
Herman Cain
$26.00
Herman Cain's rise is the embodiment of the American dream. His parents, Luther and Lenora Cain, made a living the only way black people could in the '40s and '50s. Luther held down three jobs, including being a chauffeur; Lenora cleaned houses. They had two big dreams: to buy a house and to see their sons graduate from college. With dedication and hard work, they made both these dreams come true. In this thrilling memoir, Herman Cain describes his past and present . . . and the future he is determined to create, a future that will put our country back on track. His message resonates because he describes the American reality, and his down-to-earth personal tale of hope and hard work is both unforgettable and inspirational.
Nonfiction
"Rum Diary"
Hunter S. Thompson
$15.00
Begun in 1959 by a twenty-two-year-old Hunter S. Thompson, The Rum Diary is a brilliantly tangled love story of jealousy, treachery, and violent alcoholic lust in the Caribbean boomtown that was San Juan, Puerto Rico, in the late 1950s. The narrator, freelance journalist Paul Kemp, irresistibly drawn to a sexy, mysterious woman, is soon thrust into a world where corruption and get-rich-quick schemes rule and anything (including murder) is permissible. Exuberant and mad, youthful and energetic, this dazzling comedic romp provides a fictional excursion as riveting and outrageous as Thompson's Fear and Loathing books
Biography
"RAFA"
Rafael Nadal & John Carlin
$27.99
What makes a champion? What does it take to be the best in the world at your sport?
Rafael Nadal, one of the greatest players in the history of tennis, has the answers. In his memoir, written with award-winning journalist John Carlin, he reveals the secrets of his game and shares the inspiring personal story behind his success. It begins in Mallorca, a small island on the Mediterranean Sea, where the tight-knit Nadal family has lived for generations. Coached by his uncle Toni from the age of four, taught humility and respect by his parents, cherished by his exceptionally close extended family, Nadal has managed the uncommon feat of becoming an acclaimed global celebrity while remaining an unfailingly gracious, relentlessly hardworking role model for people in all walks of life.
Humor
"Squirrel Seeks Chipmunk"
David Sears
$13.99
Like a modern-day Aesop or La Fontaine, Sedaris has his darkly comic and deeply cynical (if somewhat rambling) morality stories enacted by animals. Although Sedaris typically narrates his works solo, here he is joined by Dylan Baker, Siân Phillips, and (the incomparable) Elaine Stritch. The dry tones of both women are particularly well suited to the knowing commentary offered by various domesticated, barnyard, and wild animals on casual racism, self-congratulatory sanctimony, poor excuses for adultery, and fad spiritualism, among other common societal ills.
Humor
"Shatner Rules"
William Shatner with Chris Regan
$21.95
This collection of rules, illustrated with stories from Bill's illustrious life and career, will show you how Bill became WILLIAM SHATNER, larger than life and bigger than any role he ever played. Shatner Rules is your guide to becoming William Shatner.
Humor
"Quite Enough of Calvin Trillin: Forty Years of Funny Stuff"
Calvin Trillin
$27.00
In Quite Enough of Calvin Trillin, the author deals with such subjects as the horrors of witnessing a voodoo economics ceremony and the mystery of how his mother managed for thirty years to feed her family nothing but leftovers ("We have a team of anthropologists in there now looking for the original meal") and the true story behind the Shoe Bomber: "The one terrorist in England with a sense of humor, a man known as Khalid the Droll, had said to the cell, 'I bet I can get them all to take off their shoes in airports.' " He remembers Sarah Palin with a poem called "On a Clear Day, I See Vladivostok" and John Edwards with one called "Yes, I Know He's a Mill Worker's Son, but There's Hollywood in That Hair."
In this, the definitive collection of his humor, Calvin Trillin is prescient, insightful and invariably hilarious.