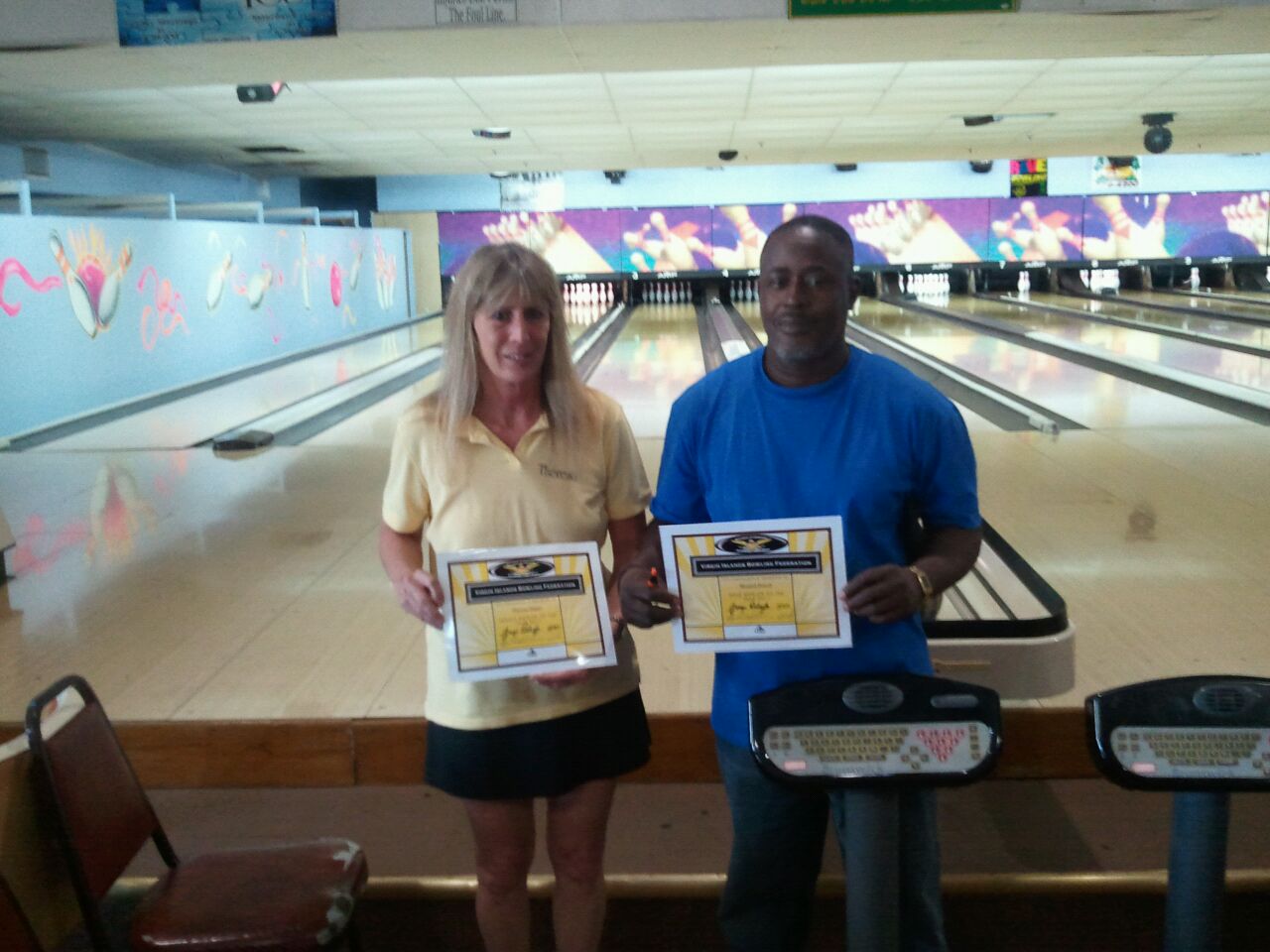 The Virgin Islands Bowling Federation held its annual National Team Qualifying Roll-off for the 2012 season on Oct. 14-16 at Tropical Ten Pins on St. Croix. Thirty-two bowlers competed for 18 games to vie for top spots in their respective divisions.
Overall men's high qualifier was Ronald Moorehead in the adult division, and the overall high qualifier for the women was Terri Depka in the senior division. Top divisional qualifiers included:
Men's Seniors – Raphael Bramble
Men's Super Seniors – Charles James
Women's Adult – Caren Andrews
Women's Super Seniors – Elaine Springer
Junior Boys – Michael Brooks
Junior Girls – Larue Felicien
The top senior qualifiers will compete in the upcoming World Seniors Invitational tournament in Ft. Lauderdale, May 6-12, 2012. The V.I. team dominated in 2011, winning 12 medals overall. Depka accounted for four medals, including three gold and one bronze. Wendell Powell won two bronze medals in the men's division.
Powell and Depka were awarded the titles of V.I. Male and Female Bowlers of the Year by the V.I. Bowling Federation. The title was based on 2011 qualifying averages, tournament performance and federation participation.
2011 top bowlers will end the current season by competing at the QubicaAMF World Cup in Johannesburg, South Africa in November. Depka and Charles Richards will represent the Virgin Islands at the World Cup, which consists of the top male and female bowlers from over 90 countries.
In order to prepare for the upcoming tournaments, the VIBF has retained Rob Comito, former PBA champion, as their new national coach. Comito is also the owner of Lou Scalia's Pro Shop in Davie, Florida, and will provide the V.I. bowlers with not only training, but with access to much-needed equipment to help them be more competitive on the international level.
Housing, Parks and Recreation provided the funds to send five of the V.I. junior bowlers to the Kegel Training Center, a state of the art facility in Florida to fine tune their skills. Adult and senior bowlers have also attended the training center, but have paid their own travel and lodging expenses due to lack of association funds and cutbacks in government contributions.
To raise funds for continued coaching, tournament entries and travel expenses for all divisions, a "Bowl- A-Thon" will be held Oct. 29 at Tropical Ten Pins on St. Croix. Bowlers are taking pledges for pins knocked down for up to six games. A raffle will also be held, featuring great prizes donated by local merchants.
Corporations or local merchants interested in making a contribution to the VI team can contact Charles James at charlobucks@hotmail.com or George Osborne at tuckomar@yahoo.com for specifics on tax deductible donations.