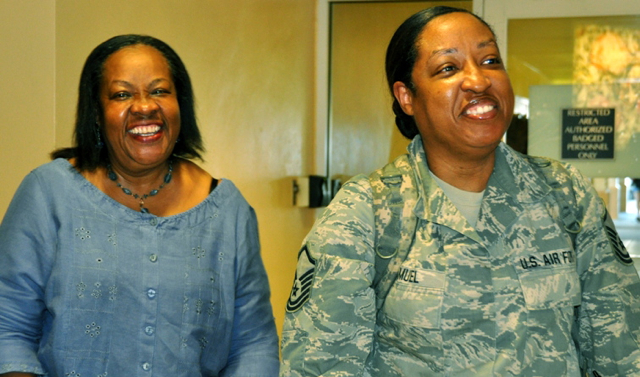 Master Sgt. Renee Samuel walked slowly down the hallway of St. Croix Educational Complex Wednesday morning with her mother by her side. Her hands shook nervously and her face was wrought with emotion as she approached her 16-year-old daughter's classroom. (To see video of Samuel's return, see related link at story's end.)
Samuel was nervous because she hadn't seen her daughters in six months, didn't know how they would react, or how their lives had changed in her absence.
Tuesday night she returned from Balad, Iraq, a tour with the V.I. Air National Guard. In those six months she lived in a different world—a world without mothers and without children.
Only members from the VIANG and her parents knew of her return Tuesday; they greeted her at Henry E. Rohlsen Airport, and Samuel's nervousness found further mixed feelings. Adults do not change much in the six months they are gone, but children do.
Her daughters were expecting her return in November; she wondered how they would react when she surprised them.
Samuel had made specific requests to keep her return quiet, so that she could surprise her two daughters at each of their schools. With her anticipation and anxiety mixing into an uncontrollable cocktail of fear and emotion, Samuel started on possibly her hardest mission in six months.
As Samuel entered the classroom, her daughter, Mahleelah Frett, squealed and began to cry, wrapping her arms tightly around her mom. The classroom erupted with a loud "Aaaw," as Frett and Samuel held each other and rocked back and forth.
Samuel deployed to Balad on April 28 from the 285th Communications Squadron to serve in support of Operation New Dawn, formerly named Operation Iraqi Freedom. New Dawn signifies the end of U.S. military combat operations and was different from her previous deployment in 2008 to Kirkuk, Iraq.
"This time was different because we were supposed to be training Iraqis to take over the operations," Samuel said. "It was still scary because we were under attack almost every week."
This, juxtaposed with leaving her daughters at home, caused great anxiety for Samuel, but on Wednesday the elation of seeing her daughter's reaction, seemed to remove all of that.
"The other times I've been away, the family just comes to the airport to greet me; and I wanted this time to just be special for my girls and focus just on them."
Her mother, Leona Samuel, was especially thankful that her daughter returned safely, and the closeness was evident between the two as they headed out for the Church of God (Holiness) Academy to surprise her 13-year-old daughter Keiana Elliott.
"Oh Lord, I'm so happy she's home," Leona Samuel said. "I just can't thank him enough."
Elliott reacted much like her sister, but she jumped out of her chair with a high-pitched scream and ran full force into her mother's arms. Tears streamed down both of their faces as they embraced, and the classroom erupted with a full round of applause.
Samuel has 18 years of military service and is a cyber surety superintendent. She also has a son named Akileh Frett, who is in Florida attending Central Florida College.