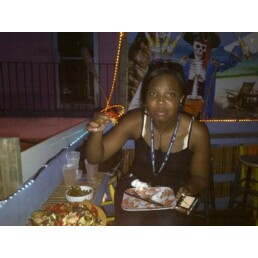 Victoria James just can't fathom what has happened to her daughter, 21-year-old Seara Samantha James, who's now been missing since Oct. 11.
James was last seen Oct. 11 around 8 p.m. when a friend dropped her off at the entrance to the Power Boyd neighborhood, according to her mother.
"She had a normal day," Victoria James said.
She said that she and her daughter exchanged words on the night of Oct. 10, but her daughter called her on Oct. 11 to tell her she loved her.
"I told her that when I get home from work, we'll talk about it. That was the last time I heard her voice," she said.
Her daughter was seen several times that afternoon and night. She hung out with friends at Castaway's bar, and she went to happy hour at Mongoose Junction. James said she realized something was amiss when her daughter's boyfriend, Kibo Scatliffe, came to the door on the morning of Oct. 11 to say that Seara Samantha James hadn't answered his early morning text messages. Scatliffe said she also didn't respond to phone calls.
"She was outgoing, outspoken and loved to smile," Scatliffe said of Seara Samantha James.
He said that his girlfriend was the kind of person who, if you had a bad day, would try to help out.
On Oct. 13, at the urging of a Julius E. Sprauve teacher, James reported her daughter missing to the police. Since then, she's learned that her daughter didn't fill her asthma medication prescription written Oct. 9 at Myrah Keating Smith Community Health Center, she's spoken to her co-workers at Global Marine, and she's had no word from her daughter.
Seara Samantha James has disappeared seemingly without a trace.
"There's no explanation for this," said Victoria James, who's suffering from pains in her stomach and her chest. She added that her son, Tyric, 12, is in counseling at Sprauve School.
"It's like a nightmare," she said.
Deputy Police Chief Darren Foy said that while the police searched around the Chocolate Hole and Westin areas because that's where the young woman lived, there are plenty of places on St. John that his officers haven't been. Other officials said that police are checking her cell phone records in hopes of finding a lead.
At least two other people on St. John remain on the missing list. Coral Bay resident Nicky Brady went missing in November 2006. And many years ago, Reginald Richie disappeared. The V.I. Police Department website lists a dozen people, including Brady and James, who are missing across the territory.
According to her mother, Seara James moved about five years ago to St. John from her native St. Lucia, where her father still lives. She got her GED by attending classes at Julius E. Sprauve School. She lives in Bethany near the Power Boyd neighborhood.
Seara James is 5 feet 5 inches tall, weighs 120 pounds and has a medium build. She has a tribal tattoo on her right arm, Pascal written on her back and a rose on her left leg. She was last seen wearing a white T-shirt, black pants and carrying a black handbag.
Police continue to urge residents to report anything that might help them find James.
Call police at 911 or 693-8880. Anonymous tips can be reported to Crime Stoppers USVI at 800-222-8477.